Most of us start our freelance or agency journey, typically the same.
To win clients you cut your desired hourly rate in half. While it helps to gain those first few clients it quickly becomes unsustainable.
Winning all these cheap clients isn't as rosy as it looks.
You can barely keep your head above water as your hourly rate is too low, and you rarely get any free time to yourself. ?
It becomes a grind. You're working endless hours to keep your clients happy. You start to burn out and relationships with friends and family suffer.
There's a way you can improve your lifestyle. Charge more, it really is that simple. Once you have landed your first few clients start slowly increasing your hourly rate.
In this guide, I'll show you proven tips and tricks to help you win high-paying clients each and every time.
What are the Benefits of Working With High-Paying Clients?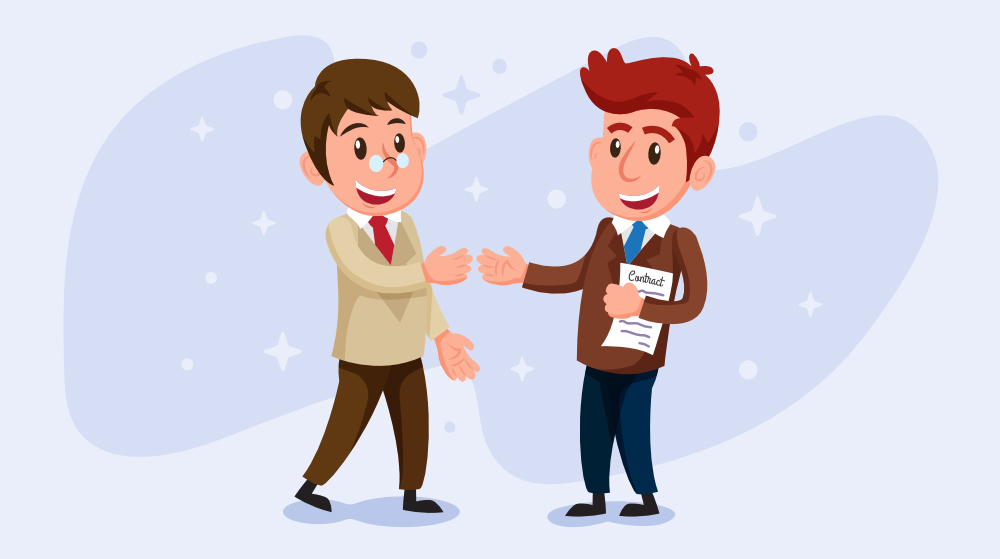 Everyone has a different definition of what a "high-paying client" or a "large client" means.
It varies from company to company and from one industry to another.
For someone, a high-paying could mean a client who pays a 5-figure monthly contract.
For someone else, it might only be a 6-figure contract.
My definition is slightly different.
I use the 5-to-1 rule, meaning if one client's billing exceeds five smaller ones then that's high-paying for me.
If one client's work/project replaces five other clients' projects then that for me is a high-paying client.
Regardless of what method you use to make this distinction before you start pursuing them.
Is it really worth going after these high-paying clients though? After all:
Why risk all the existing clients to pursue a few larger clients?
Why upset the existing clientele who are already paying you?
Why take a risk to your current income?
These are all good questions! Let's break everything down before we get into the "how" with acquiring high-paying clients.
First of all, it's obvious why you want to work with high-paying clients.
You will earn a higher income. It sounds like a no-brainer, right?
But, there are also other benefits of working with larger clients.
1. They Have Greater Budget-flexibility
When you work with a small business owner or an entrepreneur they have a minimal budget for web design or graphic design or content marketing.
Most of their time, focus, energy, and money is primarily focused on running their business.
They are also more likely to go to a freelance marketplace such as UpWork, etc. to find contractors or agencies.
Larger clients are different. They have more room in their budgets for projects. They usually have large annualized IT or marketing budgets to spend on external vendors.
Sometimes, they already have the budget approved and ready-to-start before they pick a vendor.
It is often cheaper for them to outsource to an agency or freelancer like you, rather than hiring someone full-time.
The chances of you winning a contract from a high-paying client is more likely if you position yourself correctly.
2. They Have a Larger Team to Support You
In my experience working with larger clients – one of the benefits I have experienced is the speed at which they respond.
It's often because I'm working with more than one person at the company.
You'll receive more support since they have larger teams, and also, the project you are working on may need input from multiple people.
For example, you might be working with their designers, quality assurance specialists, and in-house developers. Not to mention a dedicated accounts department to help with billing.
By working with a larger team, it makes it easier to get help and support when you need it most.
3. They Are More Knowledgeable
When you are working with a small business you are the expert in most cases.
In addition to the design or development work you're doing for them, you are also responsible for educating them on every detail.
Let's say you are a graphic designer, and you are helping them create a logo.
You have to explain to them why they need brand guidelines, how to create one, etc.
Larger clients already generally already have brand guidelines and a clear marketing direction. That is unless of course, they're hiring you to create their brand guidelines.
If you provide your expertise and "wow" them with exceptional service they will more likely hire you on other projects.
4. They Are More Focused On The Business Needs
When working with larger clients, they typically already have a direct business need and a business plan for what they're hiring you for.
That could be a design project, a marketing project, or a development project. Whatever the reason by having a clear business plan in place it makes it easier for you to understand exactly what they need.
Typically when working with smaller clients, they may say something like "I need a website". Not very helpful without direction on what type of site.
Generally, a larger client already knows exactly what they need and is hiring you to build, design or solve it for them.
5. The Social Proof They Give You Is Significant
A bonus of working with larger clients is the social proof it gives you or your agency.
It helps you attract other larger clients in the future.
You can display the work you've done for them on your website or a portfolio, which in turn makes you a natural choice for other companies of their size, or from their industry.
Let's take the example of graphic designer Sebastian from Overflow Graphics. Sebastian specializes in working with and helping mainly large financial institutions in Toronto, Canada.
He displays samples from clients from the same industry on his website. This social proof will help him win over other financial institutions with ease.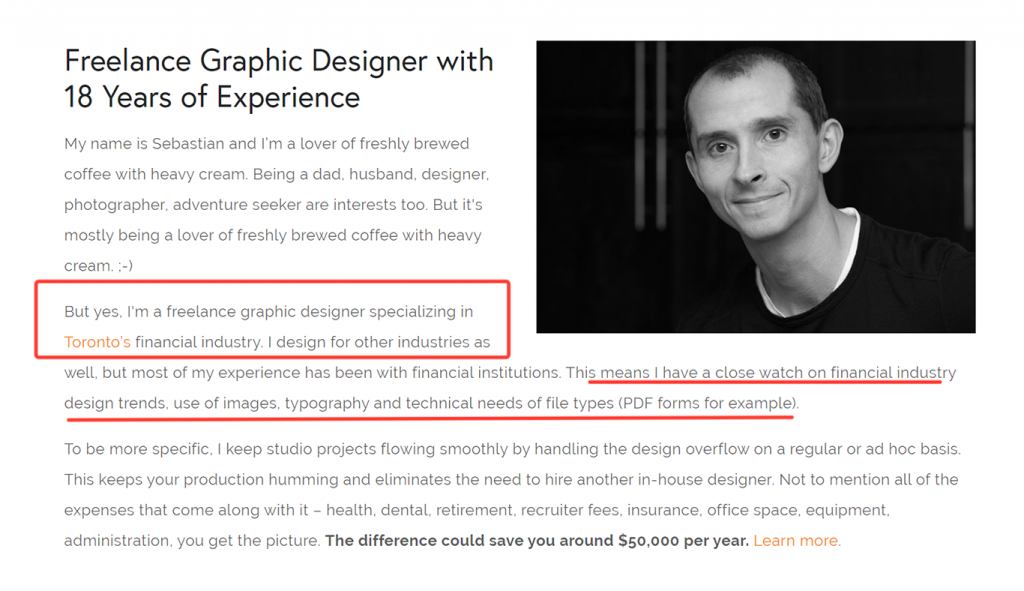 How to Get High-Paying Clients? 9 Proven Ideas
In this section, I'll cover 9 proven and time-tested ideas that other freelancers and agencies have used to win and retain high-paying clients consistently.
Some of these ideas are one-time projects that require little time, while others require constant action on your part.
Let's explore them in a bit more detail.
1. Know Your Strengths
I encourage this as your very first step before doing any marketing or outreach.
Always start with yourself.
It is tempting to say "yes" to every opportunity that knocks on your door.
Maybe they are huge and fit the 5-to-1 rule I previously discussed.
But take a step back, put on the breaks and think about it for a moment.
It's crucial to know that you can support them.
Can you service them properly?
That's why self-analysis is so crucial.
This exercise should take less than a few hours.
It is essential to understand what services you can offer, how you can deliver those services, and why you are the best to provide these services.
First – ? Identify Your Strengths
Ask yourself these questions:
"what are some things you do very well over others in your market? "
"If a client hires you what is that you and only you can deliver?"
A good exercise would be to review your existing client portfolio.
Find out where you have been focusing most of your efforts.
If you are a graphic designer maybe you notice that the majority of your work/revenue is coming from logo design.
If you are a WordPress developer you might notice that a lot of your customers are blockchain startups.
Second – ✋ Stop Doing Everything Else
This can be scary at first, after all, who likes turning down money? But learning to say no, allows you to focus your time and energy on gaining high-paying clients.
When Steve Jobs returned to Apple in 1996, the first thing he did was simplify the company's product lines.
He cut 70% of Apple products, and re-focused efforts to the core 30%. They achieved profitability in less than two years after that. And the rest is history.
For you, this could mean focusing on just one industry or one core skill.
Focus on your core competencies, and build a niche to learn deeply.
An example of this is Don Sadler, a freelance writer who specializes in writing for Financial firms.
As you can see from this portfolio — most of his clients are in the financial niche.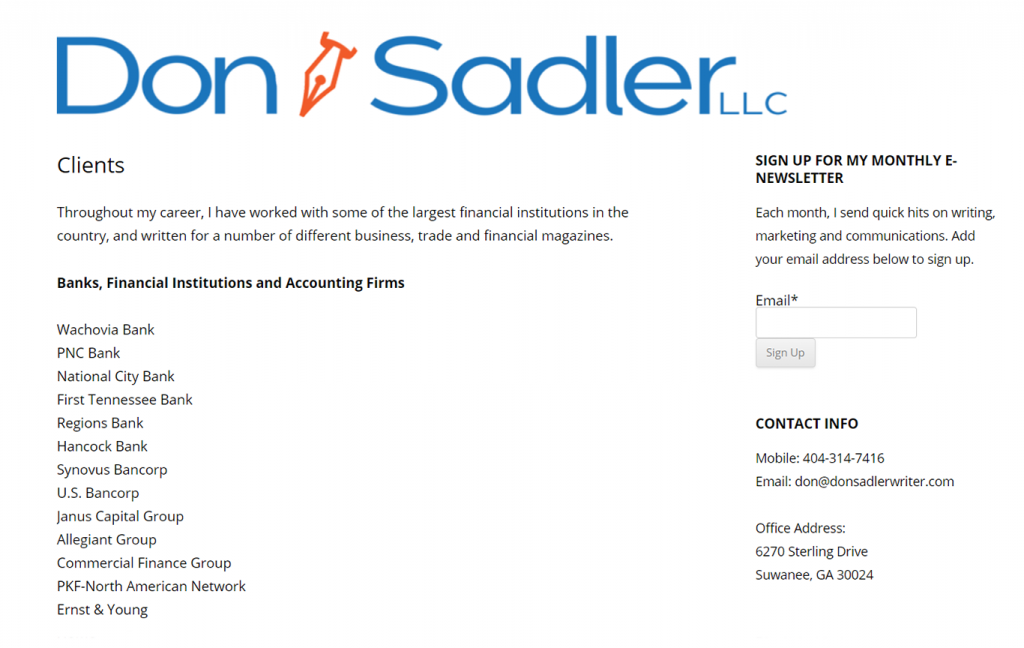 Another example is freelance copywriter https://topcryptowriter.com/
Jay specializes in writing for blockchain and crypto companies, and he displays similar samples clearly on his website.
Doing so makes it easier for other blockchain companies to trust his expertise and potentially hire him.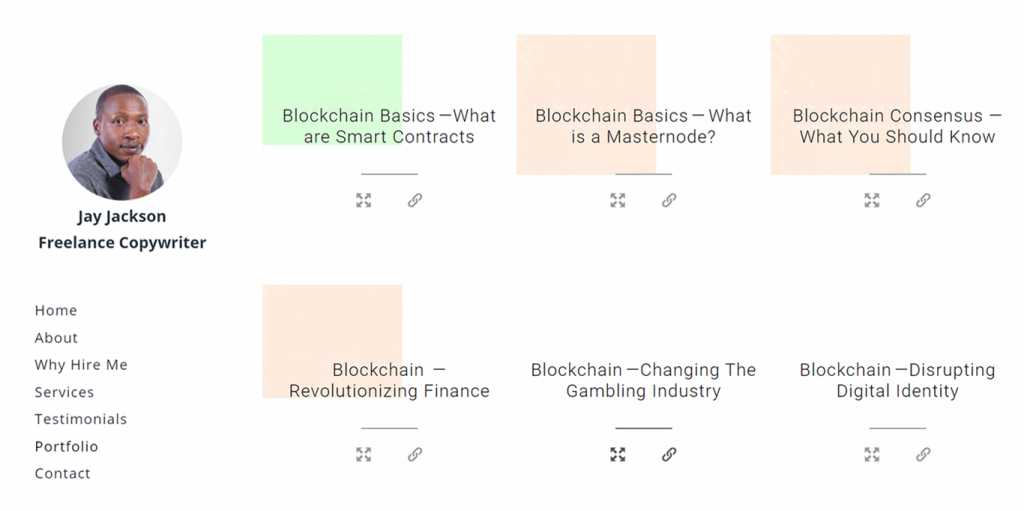 2. Get Clear on Your Ideal Client
We have established that larger clients potentially pay more and are excellent for the future growth of your business.
But, that doesn't tell you who precisely these clients are.
The more clarity you have on the type of customers you want the easier it will be for you to find them.
Similar to how we do some self-analysis and introspection in the previous step – here, it's essential to do an exercise to identify who your ideal client is.
There are two approaches to how you get that.
Aspiration-based
Client-based
a) Aspiration-based
It's a simple exercise and one that you can complete in a short period of time, based solely on your interests and personal goals.

For example, you might love building membership websites using WordPress; and that's all you want to do. You have tons of experience here, and you don't want to bother going after any other projects.
So, you only find and work with clients who have and want membership websites.
Perhaps, you only like doing Facebook and Instagram Ads for Shopify stores.
That's your specialty, and you love that. So, you only work with these clients.
Maybe, you want to earn a specific amount of dollars per month to become a digital nomad and travel the world. And you want a simple business with a small number of clients on recurring revenue.
Elizabeth Albridge, a freelance writer, did just that. She wanted a simple freelance writing career to support her travels so she could travel the world.
If that's your goal, you can do that as well.
b) Client-based
In this model, you are not using your aspirations to create a client profile.
Here, you are getting very granular on the characteristics of the client.
Few questions to consider:
Which industry is my client in?
How big is their team?
What type of website do they have?
What's their yearly revenue?
What is their technology stack?
You can then use this information to create a list of different target accounts.
Maybe, it's industry-based.
You want to work only with financial services companies in your city (similar to the example of Sebastian from Overflow Graphics).
Maybe, it's location-based.
Let's say you only want to work with local businesses in Boston your focus would be mid-sized companies with 50 to 500 employees based in Boston.
Or maybe, it's technology-based.
Let's say you specialize in building LMS (Learning Management Systems) for WordPress websites, then you would market that service front-and-center. Once you establish this niche, it will be easier to attract clients who want that specific solution.
Here's a specific example. WPTonic based in New York specializes in WordPress LMS websites. On their website, you will find case studies, and specific services geared to help clients with LMS installations.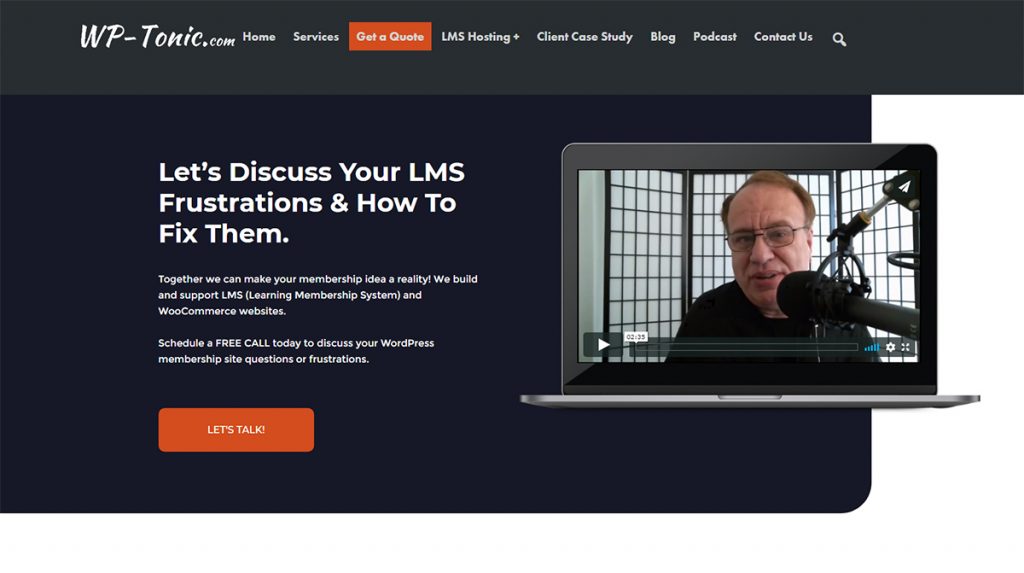 3. Create a Portfolio Website
Social Media is amazing. You can use Twitter, Quora, LinkedIn, Facebook Groups, Pinterest to build a personal brand and attract customers.

The problem with social media is that you are at the mercy of the social media company. Anytime they can make changes to their design, algorithm policies, and then your leads dry up.

For example, Littlethings, with over 100 employees, shut down its operations after Facebook's 2018 algorithm changes. This is an extreme example, but it happens over and over again to many business owners.

Here's my recommendation to you – Own Your Audience.

That's why creating and maintaining a website is one of the wisest business decisions you can make.

You don't have to go insane with an expensive website, or spend hundreds of hours on the initial design.

The goal here is to create a website that tells your prospective client what you do and why you can help them. The best part of owning your own website is, you can always make improvements, and adjustments further down the line.

Here are a few simple things the website needs to have.

About us Page
Portfolio/ List of Past Projects
Testimonials/Case Studies
Contact us page
A) Brief "About Us" Page
The "about us" page is the second-most visited page on a majority of websites.
On your "About Us" page briefly explain who you are, what services you offer, and the type of clients you work with.
B) Portfolio or Projects
The portfolio page is your place to shine, show off your latest projects and draw in prospective clients.
Clients want to know who you have worked in the past, and what type of projects you usually work on.
Before contacting you they want to be sure that you have the right skill-set and experience.
C) Testimonials and Case Studies
On the Portfolio page, they can see who you have worked with.
However, a written or video testimonial from a client is much more powerful.
It's not natural for most people to trust a brand or company they aren't familiar with, a written testimonial from a well-respected company that is verifiable makes you stand out from the crowd.
D) Contact Us Page
You need to make it easy for potential clients to get in touch with you.
Either display your email and phone number for them to contact you directly.
Or include a simple form where you can collect information, and then you can follow up with them. Personally, I recommend having both a form for email inquiries and displaying your email address, phone number, and address.
If you don't have a website and want to create one for free in a short timeframe then our comprehensive guide on creating a WordPress website in less than 60 minutes can get you started.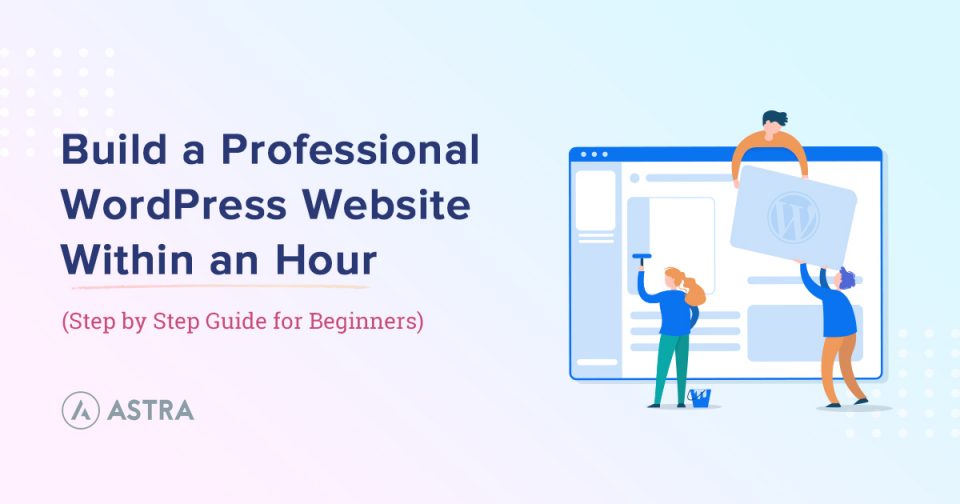 4. Let Them Find You
Most freelancers use the most common outreach methods such as freelance marketplaces like UpWork, Freelancer, Guru, etc.
A small number of agencies/freelancers send cold emails to win clients.
The above two client acquisition methods work.
However, the effort required to get a response or land a client is enormous and can be disheartening. With a lot of competition, it can mean sending hundreds of proposals before you win a contract.
And for cold emails, the reply rates are as low as 1%. And it's generally seen as quite spammy.
Instead of reaching out to clients, why not let them find you? Yes, it's possible.
Leverage the proven power of content marketing to drive clients to your website (and let them reach out to you).
Use various forms of content blog posts, infographics, guides, videos, Slideshare, podcasts, etc., to establish a brand and demonstrate your expertise.
It could be as simple as creating a blog on your website and writing educational content.
Marketing agency IMPACT Branding is an excellent example.
Over the years, they have created 100s of resources on their blog to educate and attract potential clients. As they drive more traffic to this blog it also helps them convert these visitors into prospects and clients.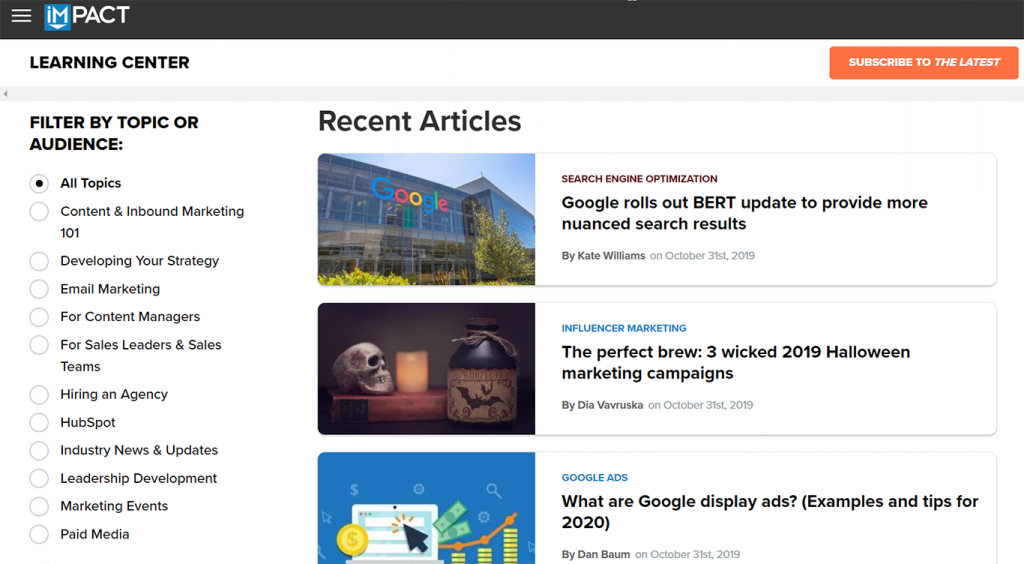 Another idea is to publish guest posts on other authority websites.
By publishing thoughtful and relevant content on industry publications you will be able to attract potential clients to your website and social media profiles.
After struggling to make a decent income on content mills and freelance marketplaces Elna Cain used guest posting to grow their freelance writing career.
Since then, she has been able to attract clients and grow her freelancing income.
An emerging technique is to pitch yourself as a guest on industry podcasts.
In general podcasts have an established audience, and they are usually interested in the subject the podcast is about.
If you have a strong message and value to add to the audience, the hosts will be interested in interviewing you.
Alex Berman from X27 did a guest podcasting tour. He managed to get 50+ podcasts in 6 months.

He started guest podcasting mainly to build his brand and get the word about his agency.
The surprising benefit was that potential clients started emailing him after some of his guest appearances on other podcasts (here's an email he received from one such client).
5. Be Active in Your Community
In the age of technology the value of face-to-face interactions, in-person events cannot be overlooked.
The benefits of getting out there and building relationships with others in your community are two-fold. You can find relevant leads and build genuine helpful relationships. Remember though to give value and not just take from others.
Be proactive and participate with others in your technology community (WordPress, Drupal, Shopify, HubSpot, etc.) both online and offline.
The more people recognize your name in the community, the higher the likelihood new clients will flock to you for your expertise and services.
Here are a few ideas to consider and implement:
A) Online – Participate in Forums and Groups
There is no shortage of forums online that you can join and participate.
Let's use the WordPress community, for example.
I did a search of Reddit for the topic "WordPress," and I got the following results.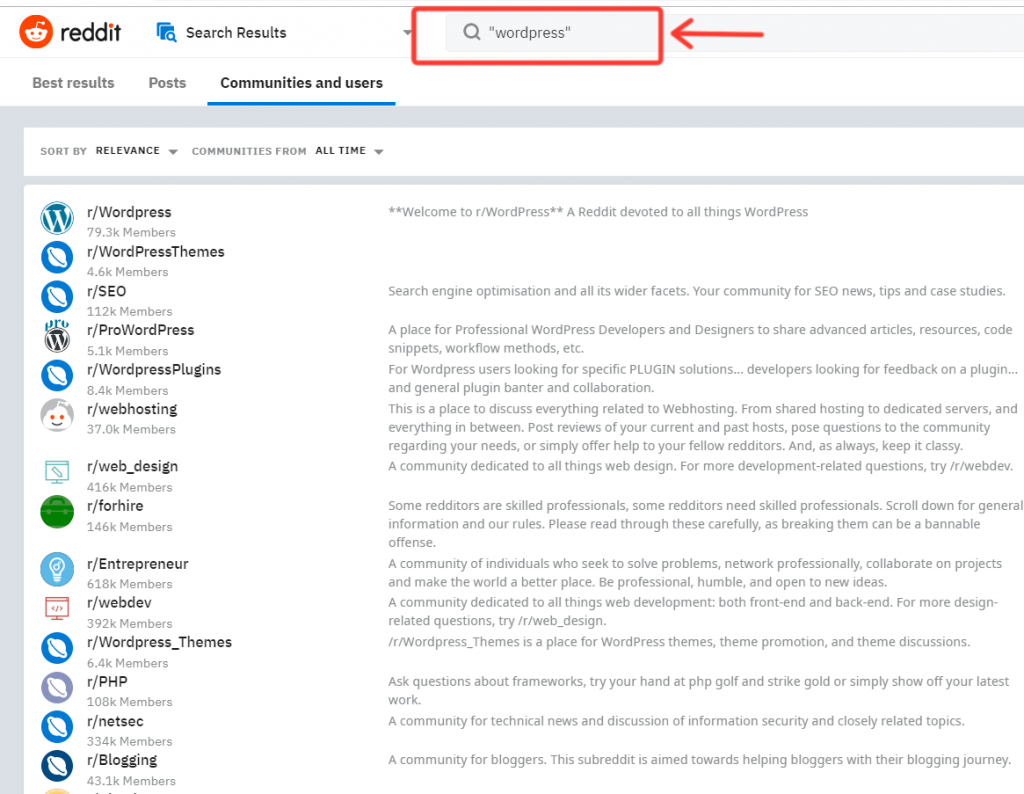 I did the same for Facebook Groups, and I got the following results for WordPress – related communities.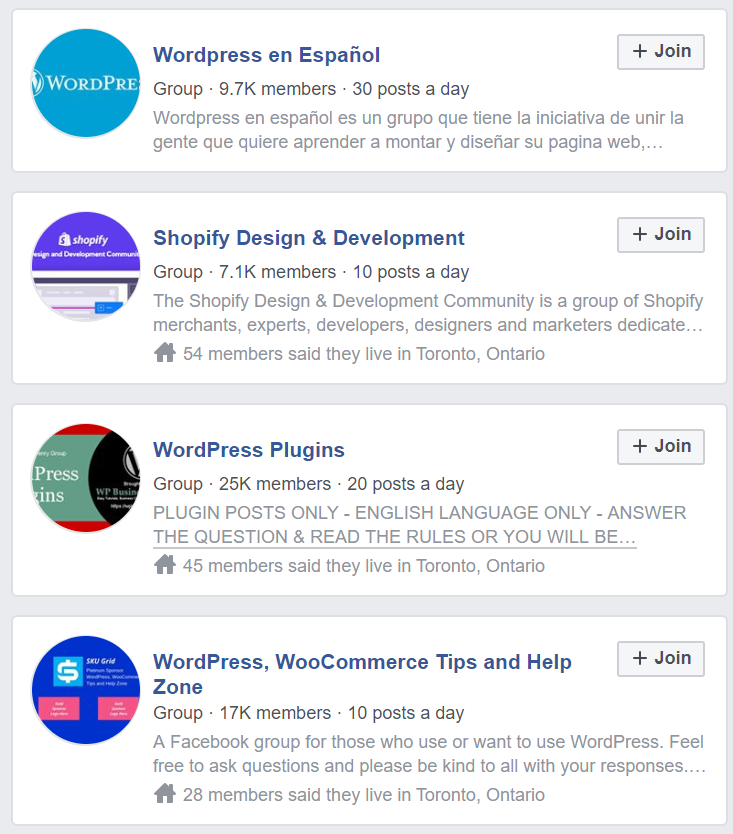 Join as many relevant groups as possible.
Participate in conversations, connect with others.
The more active you become, the bigger your brand will be, and you can start attracting clients.
B) Offline – Attend Events
As mentioned earlier, offline networking isn't going away. There are more events and conferences every year across the globe.
For each city, there are various WordPress-related events on Meetups.
I did a random search on Meetup.com for WordPress events in Miami, Florida, and I got the following list.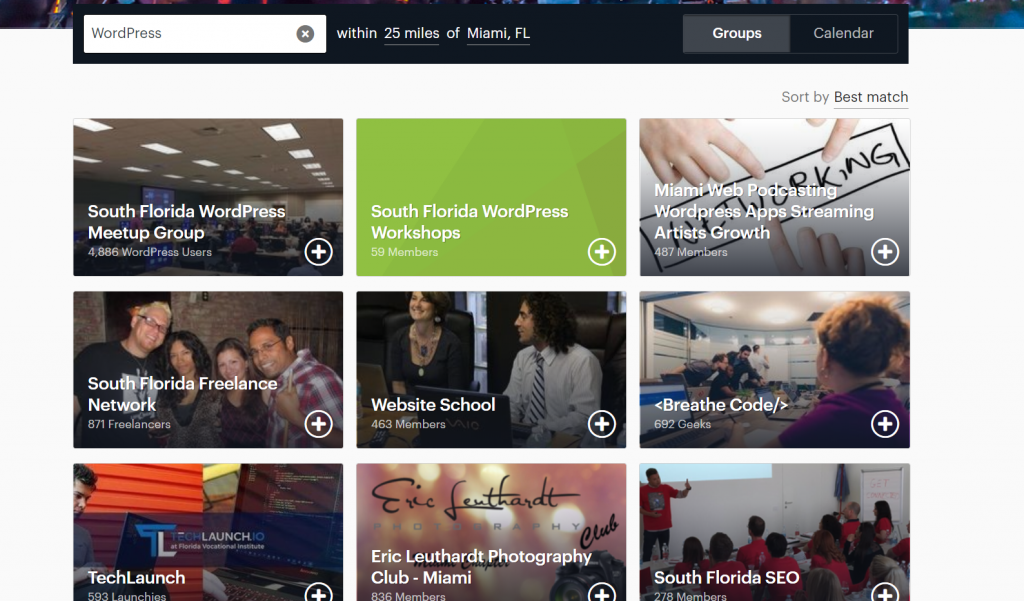 WordCamps are another ideal venue to meet others in the industry.
They are independently run by local WordPress professionals, and there about 100s of WordCamps every year around the world.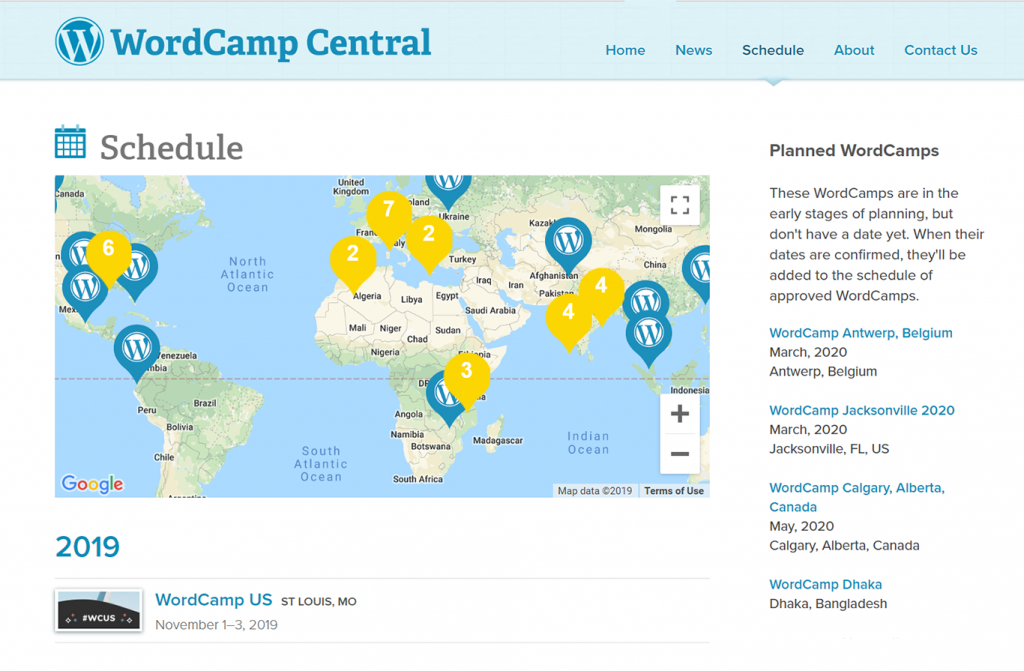 Search for the right events, and get out there and network.
Even if you don't win clients right away – at the least, you will learn new ideas and skills that will help your business grow.
C) Advanced – Speak at an Event
The best thing you can do at events is to speak or be a panelist.
It will skyrocket your visibility in the community, and your brand will grow as well.
Some of your potential clients attend these events. When they see that you are openly sharing your expertise their trust automatically goes up.
Reach out to the organizers of the events and request to speak. Most of the event organizers have a vetting process for potential speakers.
If you have a proven track record and also some relevant stories to share they'd usually be willing to give you a shot.
There are no guarantees that you will get a chance to speak, but if you don't ask, you never know. If you don't get selected the first time, don't get disheartened! Hundreds of speakers can apply, and often there is only room for 15-20 speakers per event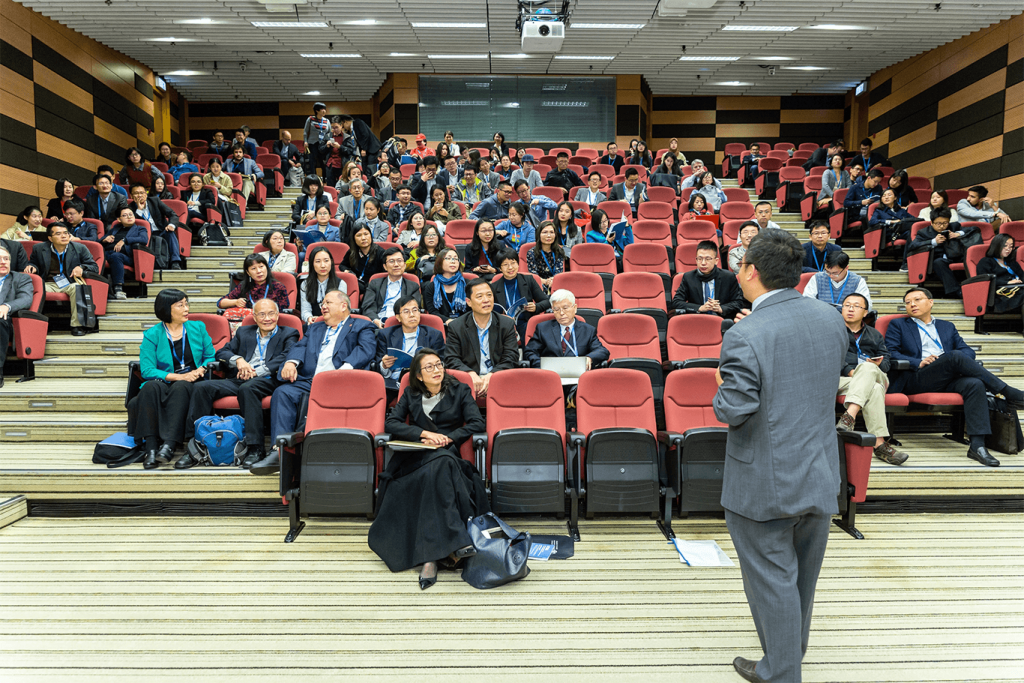 In summary, choose as many opportunities as possible to be proactive both online and offline in your community.
6. Demonstrate Social Proof
I am sure you have heard the term "social proof" before. But what exactly is it?
According to Dr. Robert Cialdini –
"We view a behavior as more correct in a given situation to the degree that we see others performing it."
If people see that others (especially peers and influencers) have endorsed and used a product/service then they are more likely to purchase it as well.
How does this apply to your business?
If your prospects see that you have worked with similar companies and you have a proven track record then they will trust you more.
They sense that your learning curve for working with them is shorter since you already have the industry experience.
They also are a little more confident that you can deliver for them, as opposed to hiring another agency/freelancer.
Here are a few places where you can display social proof:
A) Your Website
I briefly covered in the section "Create a Portfolio Website" about the benefits of having a Testimonial page.
It is an ideal place to share written or video testimonials from other customers.
Case Studies are even more powerful.
They provide detailed information about the actual problem you solved for another client.
A case study expands on what you did, how it was done (e.g, technology used), and what the impact was for the client who hired you.
Here's an example of a case study page from DevriX – a WordPress development agency based in Bulgaria.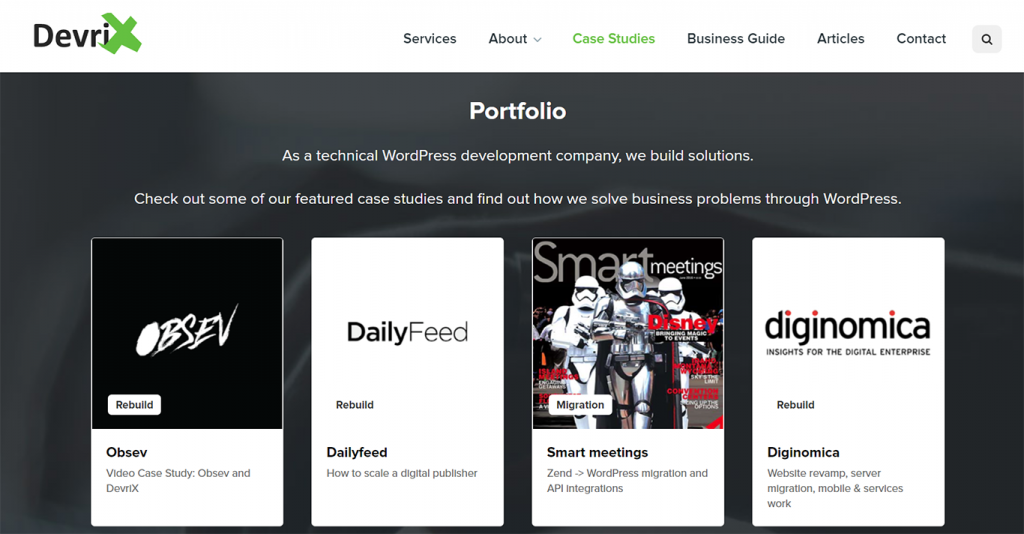 Another example is B2B MArketing Consultant Aaron Orendorff.
He displays the list of marquis clients he has worked with on his website – Iconic Content.
Aaron also displays some of the tangible benefits that these clients have experienced working with him.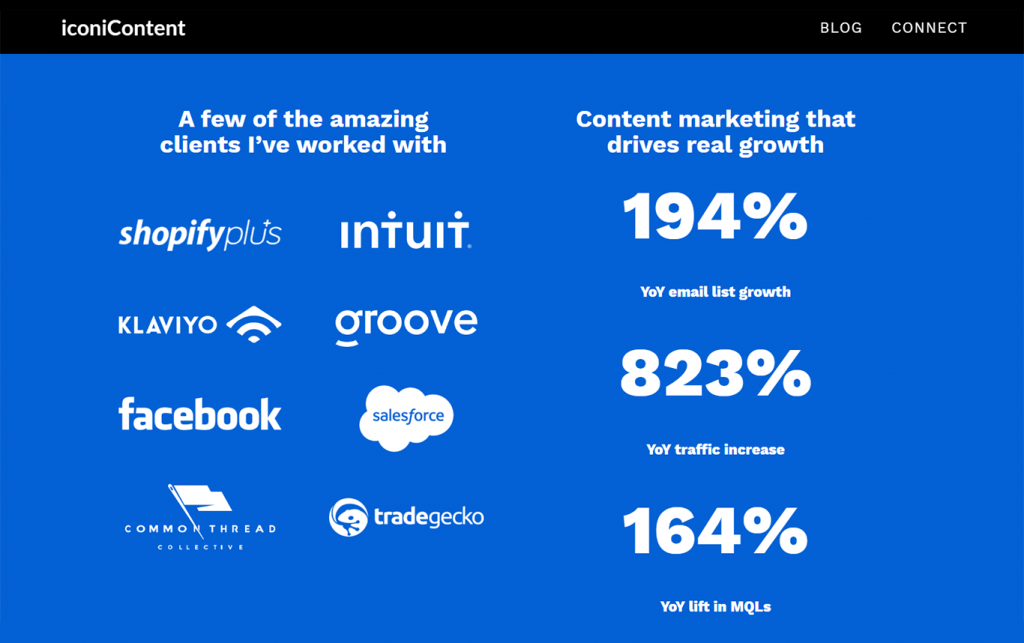 B) Social Media
Whenever appropriate share testimonials and case studies on your social media profiles and feeds.
LinkedIn is an ideal place since it is mainly a B2B audience.
Your prospects are more likely to be found more active here than other platforms.
Here's an example of a LinkedIn post by Level-Level, a WordPress agency.
In this LinkedIn status update, they have linked to a blog post that provides a detailed story of one of their clients who used them, what the project entailed, the end-results, etc.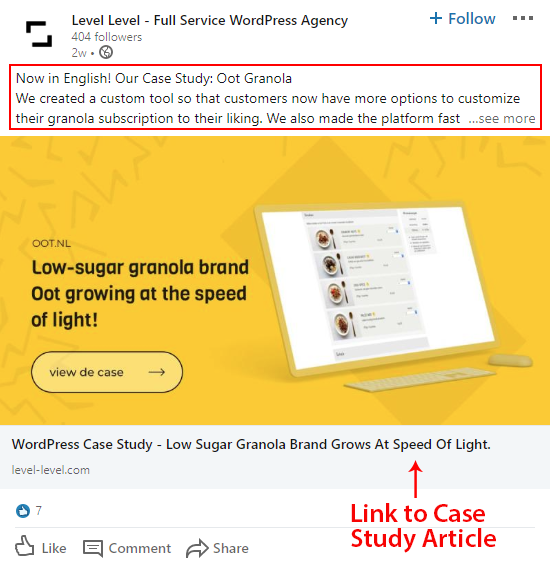 C) Webinars and Podcasts
Whenever you get a chance to speak on a podcast or webinar use this opportunity to share a customer success story.
Podcast listeners are usually very interested in the subject, and stories are compelling to get your points across.
The same goes for Webinar attendees.
They have specifically taken time out of their day to attend the webinar and are thus a captive audience rather than an audience you're trying to convince of something.
D) Speaking Engagements
Use your speaking gigs to demonstrate how one of your past clients used your services and grew their business.
Most speaking sessions have a captive audience who are keen on learning more from that session.
PRO TIP:
When giving speeches or presentations always include a way for your audience/clients to find you or reach you. It could either be your website or a social media account.
7. Sell Value Not Price
Just because a company may have revenue in the millions, it doesn't mean they aren't budget-conscious.
Pricing is always a discussion point during the negotiation or the hiring process.
Here's where a lot of freelancers and agencies crumble under pressure.
The fear of losing the contract overwhelms us, and we provide massive discounts to win the client.
In those cases, use Value-based pricing instead of cost-based pricing.
Cost-based pricing is calculating how much it would cost you to deliver that service, and adding a small premium or profit.
Value-based pricing, on the other hand, is pricing your services on how valuable the service is for the customer.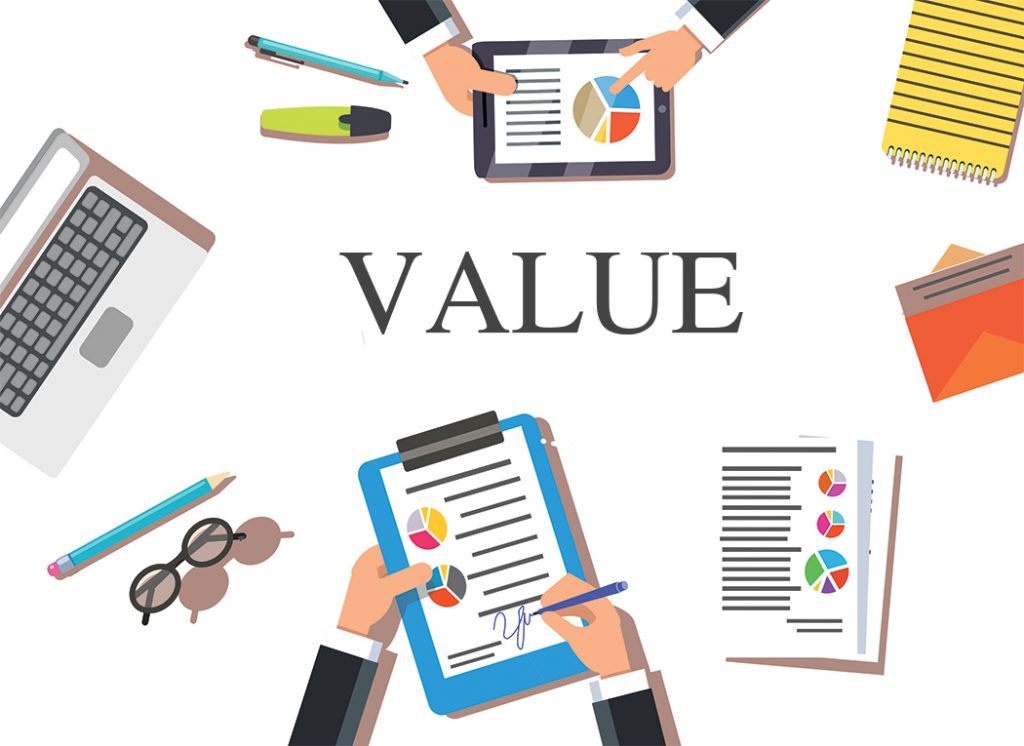 Let's say a client is hiring you for a website redesign process.
Their current website's conversion rate is terrible, and it costs them sales leads, opportunities, and potential revenue.
They are hiring an agency to rebuild their website.
Understanding that doing so will help reduce the bounce rate, improve conversions, and help acquire more leads & customers.
When building your proposal always talk about the value that can be brought to the table by doing things in a certain way.
Clearly, demonstrate the return on investment (ROI) benefits they can experience from hiring you.
Show customer testimonials, case studies that discuss how other customers have experienced the same results.
Remember, you're not a vendor, you're adding clear value to their team or business.
Always sell this value and not the price.
8. Create a Strong Support System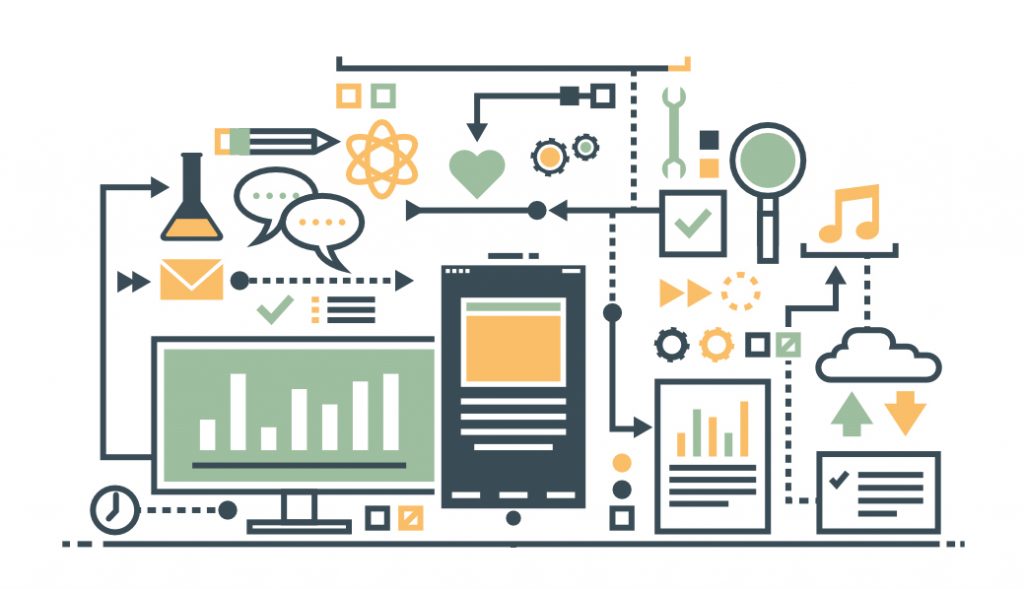 So far, we have covered how to connect with clients.
Let's look at how you can support them.
Large or high-paying clients are usually process-oriented, and they have established workflows.
You must build the infrastructure or systems in place to support them as soon as you secure a project. Don't let this scare you.
Here are a few things to be ready before you on-board high-paying clients:
A) Project Management Systems
Most clients use some project management systems like Trello, MONDAY, Asana, JIRA, Axosoft, etc.
Your clients want to make sure that you can connect to their workflow, and can communicate periodic status updates.
You don't have to be an expert in project management systems, but you should be familiar with at least one of them, and general project management principles.
B) Invoicing Options
Larger companies usually have an established vendor management system, and they use this for all their external vendors (big and small).
Instead of merely sending an email request for payments they want to ensure that you follow their process.
There are a few cost-effective tools, such as Bonsai, QuickBooks, Freshbooks, AndCo, along with a lot of others! That can help you with this.
But to keep your costs down, you can use a simple system like PayPal or Stripe.
Both of them are free to set up and use and you pay through the form of fees on transactions
C) Flexible Payment Options
If you have used marketplaces such as UpWork, Guru,etc., then you are used to a system that's pre-built for you.
These platforms have their payout schedules, and they take care of all of the hassles. It's excellent for both the clients and the freelancers/agencies.
When dealing with large clients they prefer to deal with you directly.
The client might want to break payments into different options monthly invoices or split-payments.
Many companies also have a NET30 Day payment schedule. Familiarize yourself with this, and be clear about this before you start the project.
PRO TIP:
Negotiate this upfront, so there are no confusions or delays once you start the project.
D) Proposal Templates
Always maintain a level of professionalism throughout your interactions with your clients.
You've spent painstaking time and effort to create a professional portfolio website.
The potential prospect has been impressed by this and has approached you to work for them.
It does not mean you have won the contract. For larger contracts, clients usually want to see a detailed proposal and scope of work.
To speed up the proposal process have some proven templates ready to edit and use. It prevents you from scrambling last minute to send them a proposal.
E) Build a Team to Support You
When you secure large contracts you might notice that you are not able to fully support them.
Sometimes, the scope of the project extends beyond your core competencies and skill-set.
The smart thing to do here is to partner with or outsource some of these tasks to someone who has the skillset you're looking for.
For example, you might need a bookkeeper to help you with invoices as you grow.
Or, you might need a graphic designer to help with image & logo design for website design projects.
If you are actively networking both online and offline you should be able to secure these relationships.
Thus, ensuring that you can service your clients in a timely and efficient manner.
9. Get Rid of Low-paying Clients
The purpose of this guide is to help you shift your business direction so that you can deal with more and more larger clients.
Your infrastructure and support system will also need to expand to support this growth (as discussed in the last section).
At this point, you will also notice that it becomes harder to manage all your clients.
Instead of pleasing every client it might be better to focus only on a few large ones.
You only have limited time and energy, as such you'll need to make a decision about which clients to go forward with.
Of course, always be professional and communicate effectively with them. Giving them warning, and still working with them until they can find a replacement.
The best thing you can do is to connect them with another freelancer or agency that will support them.
We have crafted a simple script that you can use when you are ready to break this news to your past clients.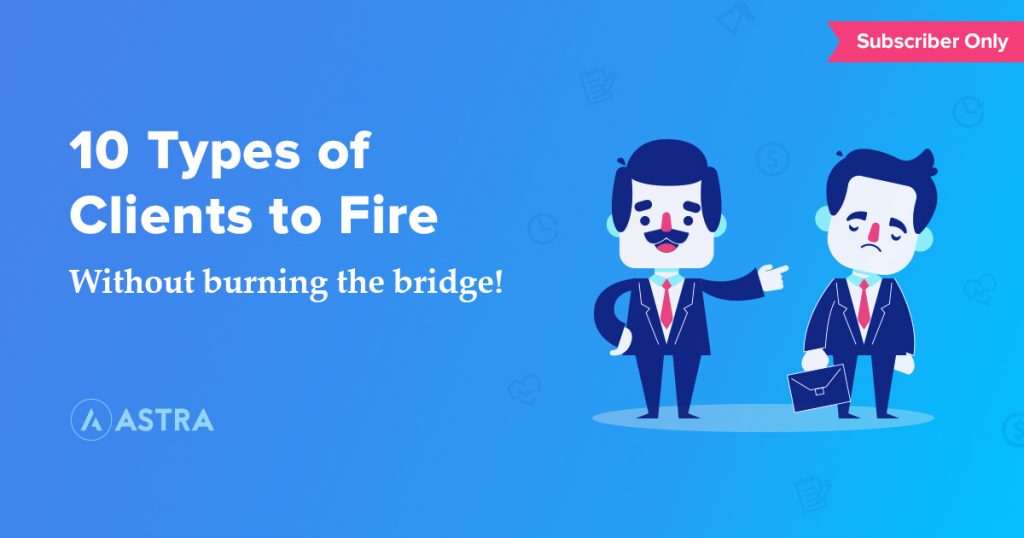 On the other hand, you can also be proactive and disqualify lower-paying clients right off the bat.
On your website, you can display the minimum retainer that you will accept.
Despite that, if a prospect reaches out to you, they clearly can afford you since they have seen the pricing upfront.
Here's an example from B2B Content Strategist Aaron Orendroff's website – Iconic Content.
He has clearly displayed this retainer costs or monthly packages right on the website homepage.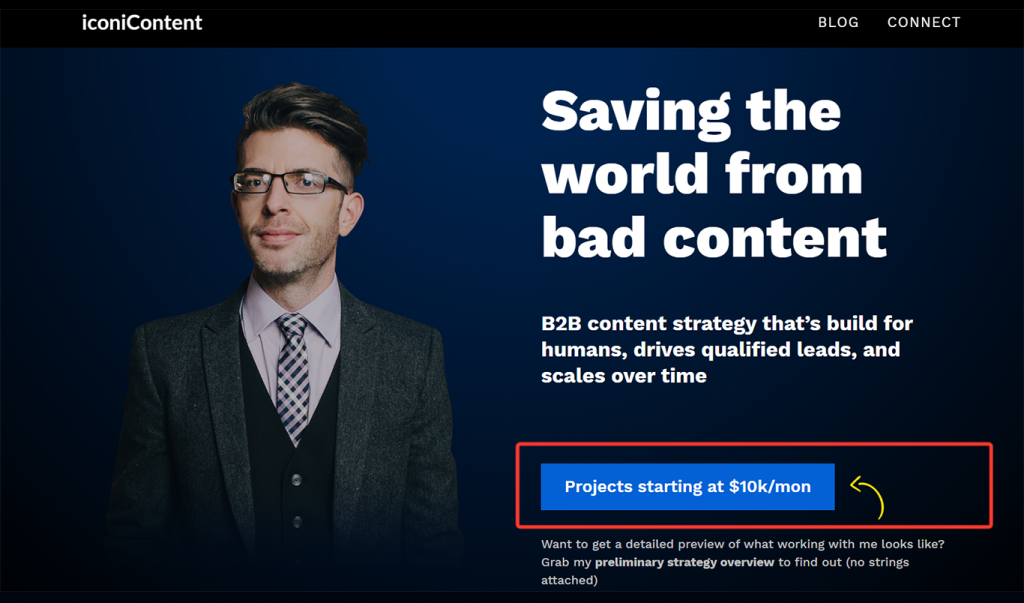 Another example is a freelance content marketing consultant, Ryan Robinson.
Ryan displays both the minimum monthly cost and also the time commitment to engage his services.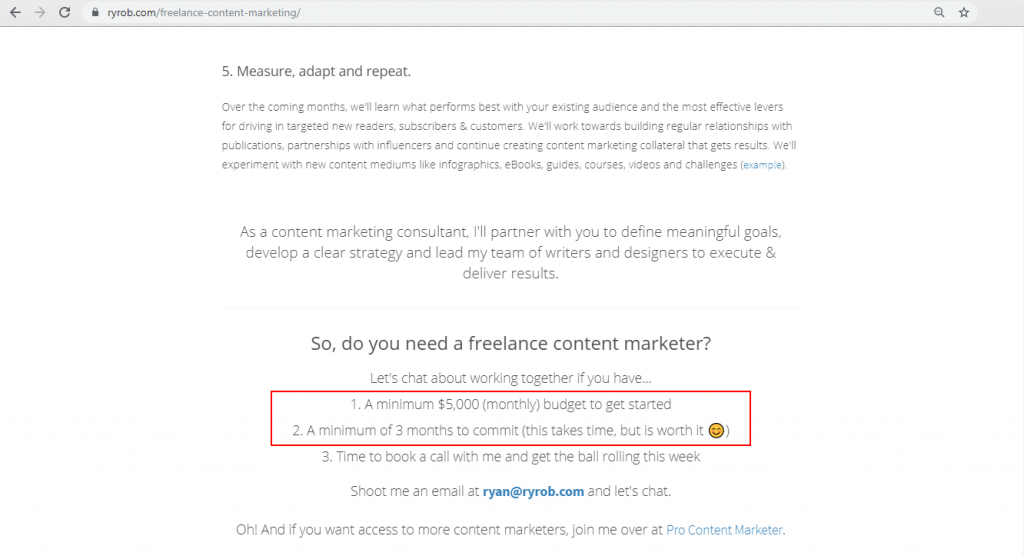 This, however, is an advanced technique, and you can start using this once you have established your expertise in the market.
The sooner you can rid yourself of low-paying clients – the faster you will see your business flourishing.
Conclusion
Hopefully, you found these tips useful!
In this guide, we've covered the benefits of working with high-paying clients, and the 9 proven ideas (with examples) to help you grow your business.
With time, effort, and the proper application of these principles — you too can attract more high-paying clients.
Are there ideas that you have used to attract high-caliber clients? If so, let us know in the comments below.