Would you start your business with tip money?
Ahh! I did…
If you know me or used any of our products, you must have felt my passion for UI/UX. I love to make things simple…very, very simple! So I started my business selling UI/UX consultation.
I won my first client working for FREE, and as a sign of gratitude, he had paid me a tip. That's where I earned my first client! 🙂
That's a picture of me at WordCamp Pune where I delivered my talk " Tips for Marketing Your Services and Products"
Today, I will share all the techniques I discovered, getting my first client of $20 to building an agency ( WordPress company) with revenue of over 4 million…
NOT JUST ANY TECHNIQUE…But ONLY the best and low-cost ones.
(This post includes – templates, ready-to-use scripts, resources, etc.)
Under each technique or idea – I also share some of the latest examples with tips on how you can get similar results.
I will also reveal the universal building blocks that help you build a strong foundation that will help you position yourself strong enough to win those contracts – whenever a client knocks at your door.
You will be thrilled to explore these if you are…
A freelancer just starting out
An online entrepreneur discovering lead generation techniques
Small business owners who are struggling to find new clients while working on current projects.
or anyone who wants "Plug-and-Play" lead generation strategies.
Feel free to bookmark this guide, and use it as a reference source anytime your client-pipeline dries up.
So, let's get started…
Create a Strong Foundation – Universal Building Blocks
Before you begin the process of reaching out to new clients, it is essential to be ready to service them.
It is essential to have the basic building blocks ready.
Let's say a potential new client is interested in your service (who you won by using one of the 20+ methods listed below) – you need to be ready to service them.
So for that, you need to be able to provide them the service readily.
Once you have a strong foundation and the building block ready – then you have a higher chance of winning that client instantly.
So, what do the fundamental and universal building blocks look like?
Here they are:
A Portfolio Website
Create Offers that Convert
Be Proposal-ready
1] Portfolio Website
As a solopreneur or freelancer – you cannot afford to ignore your branding.
You can always use social networking sites such as Quora, LinkedIn, Facebook to showcase your work- but, you cannot ignore the benefits of having a portfolio website.
It is the cornerstone of your personal branding.
1.1 The Benefits of Having a Portfolio Website
Stand out from your competition
You are automatically putting yourself at an advantage by having a simple portfolio website.
Most of your peers or competitors don't have one!
It helps you stand out as a professional and trustworthy solopreneur or freelancer.
Clearly communicate your value
Let's say you a writer that only specializes in working with eCommerce companies in North America.
You can communicate that distinction using your website.
Your potential client will quickly be able to find out who you are, and what you can do for them.
Show your proven track record
You can demonstrate social proof with the help of case studies and testimonials.
Your potential customers want to know that you have already done work in their industry.; this will reduce your client's risk of hiring you for their projects.
You own your website
Finally, your portfolio website is your property.
You are not under the mercy of a platform like Upwork, Quora, or Facebook, where your profile could be subject to change.
You can make changes as you wish.
1.2 The Elements of a Strong Portfolio Website
A good portfolio website does not have to be super-complicated.
To get started – create something simple and to the point.
You can always add more pages and information down the line.
Here's what you need to get started:
A Clear Description of who you are.
Description of your services.
Your Past Experiences/ Projects.
Case Studies and Testimonials.
To illustrate the above, here's a quick example.
Colin Newcomer is a freelance content writer. He has carved a niche for himself in writing for WordPress related companies. I like that his website is clean, simple, and only has a few elements.
Let's say a potential client visits his website – they will clearly understand – who he is, who he has worked with in the past, and what he can do for them.
1.3 Create Your Own Portfolio Website (in Less than 60 Seconds)
You also do not need to invest a lot of time and money to get started.
We recommend WordPress because its simple to set up, low-cost and easy to scale.
We at Astra have helped over 420000+ individuals, agencies, and companies create WordPress websites using our fast and light-weight themes.
You can get started with a free WordPress website and a free theme from Astra.
To get started – head over to our library of Starter Templates.
To make it easier – we have also created a guide that will show you can create a brand new and cost-effective WordPress website in less than 60 minutes.
2] Create Your Offers
"A compelling offer is 10X MORE powerful than a convincing argument…"

Dean Jackson, Marketing Guru & Co-host of the I Love Marketing Podcast
Let's say you succeed in getting your prospective clients to your portfolio website. Good job!
But that's not a guarantee that they are ready to start working with you. That's just the 1st step in their journey.
They need convincing that you are the right fit. You need to persuade them to give you a try.
So how do you do this?
Here's where having a compelling offer will help you.
The purpose of an offer – is to help them decide to either hire you (or at least test you).
Let's look at a few ideas to consider and use with your next potential client.
2.1 Examples of a Compelling Offer
A Free Project (or a Discount)
Depending on your service, you can offer the client a free sample. It is like a preview of what it is like to work with you.
For example:
If you are a graphic designer – then you can offer them the first design for free.
If you are a writer – then you can offer a free article.
If you are a web designer – then you can offer them a free mockup of their home page.
This can be helpful if you are beginning your career, or have very few clients.
In this way, you can demonstrate value to the client.
They can see the quality of your work.
You can also offer them a discount on the very first project they work with you.
A Complimentary Audit
It is not always possible to offer a free sample, or do work for free.
If your service takes a lot of time and your skill-set is in high demand – then you can provide a complimentary audit or an assessment.
For example:
If you are a copywriter – then you can offer an audit or recommendations of their landing page.
If you specialize in SEO services – then you can offer a complimentary SEO audit /report
Doing this helps you establish yourself as knowledgeable and trust-worth in your domain.
The client can also see how you can potentially help them.
A valuable piece of content
Another way to demonstrate value is by sharing your expertise or knowledge with them.
If you have created any useful content (ebook, mini-course or guide); then you can send this to the client for free.
As they consume the content – they will be able to see that you are someone that is the right person for their projects:
Here's a good example.
Brennan Dunn is a Marketing Consultant (and he typically charges $5000 per hour). To build trust with his website visitors & potential clients – he offers them a free email course.
A Coaching Call or a Consultation
Instead of sending a report or audit – you can also jump on a call (or book a meeting with them).
During that meeting, you can share your knowledge and expertise.
You can offer them insights & ideas that they can implement, and you can mention that they can hire you to help with those projects.
For example:
If you are a Facebook ads specialist – then educate them on how to optimize their ads, how to set up ads, etc.
If you are a web designer – then discuss the elements of a successful high-converting website, and what they need to do to achieve that.
Regardless of which of the four above offer types you choose – it's essential that you demonstrate that on your website.
Create a dedicated landing page or a web page describing your offer and what they can get.
3] Be Proposal – Ready
A proposal is usually the last step in your client conversion process. But, it's also the thing that can either break or make your relationship with the client.
In a rush to close the deal and win the client – many business owners make the mistake of not sending a proposal.
They quickly discuss pricing (via email or call) and are anxious to get started.
It ends up costing them potential revenue or sometimes also the client.
I recommend that you have a system or proposal template in place before you approach clients.
It will save you valuable time as you scale.
It also helps you set the right expectations with the client before you begin working with then.
Lastly, it always helps you stand out as a professional; and clients will pay more for professionals.
3.1 The Elements of a High-converting Proposal
Here are a few things to include in your proposal.
State the Problem
Briefly explain what you have discovered in your meeting/discussion with the client & their team.
Provide a high-level summary of what they are trying to solve, and what they can accomplish by working with you.
It does not have to be too long; a few paragraphs would be enough.
I recommend starting with their problems and their pain points because you are making the proposal more focused on them. This always strikes a chord with prospects.
The Project details (or Scope of work)
This section would be the lengthiest part of your proposal.
Here you will go in detail about each step of the project.
You will also explain what you would be doing for them, what systems you would use, what is your methodology, etc.
Here's an example from Freelance content marketing consultant Ryan Robinson. I have taken this directly from his proposal templates library.
Estimated Timeline
Your project might be broken down into multiple steps.
It is essential to show them when they can expect each of the steps/phases will be completed.
A detailed breakdown is especially useful for long-term projects.
Credentials/ Portfolio
Have a dedicated section or page that showcases some of the past clients or projects.
Your client might need to send the proposal to his/her boss for sign off.
So, the final decision maker may not have had a chance yet to visit your website.
The more social proof you show them – you are also putting them at ease that they are choosing the right person for their project.
Pricing
In this section – you will break down your fee summary.
They should be able to understand quickly:
How you arrived at the pricing?
What are they getting for each phase of the project?
Also, include your payment options, payment schedule, invoicing methods, and preferred payment method.
I would encourage you to establish this upfront before getting started.
The last thing you want is to do all the work and then chase the client for payment.
Next Steps
In this section, describe what the onboarding process looks like, and what would be the next steps when they are ready to proceed.
Once you have created a proposal template – you can then modify it for each client, and send it off to them.
That's why I strongly recommended this as part of your foundation or building blocks.
You now have a website, offer, and proposal template ready.
Let's dig deep into 20+ ideas on how you can win more clients and grow your business.
Leverage Online Platforms
1. Freelance Marketplaces
One of the best places to find new clients is, of course, the freelance marketplaces or platforms.
These marketplaces and platforms have been created for clients to find suitable freelancers; and for freelancers to find suitable projects.
Payoneer recently conducted a survey of over 21000 freelancers from around the world to understand the gig economy better.
Over 73% of freelancers find clients and projects via these marketplaces. So, it made a lot of sense for us to start off mentioning these platforms.
1.1 Upwork
Formerly Elance-Odesk – this platform is now the largest in the world. UpWork has over 5 million registered clients globally, and more than 3 million jobs/projects are posted every single year.
Similar to any network or platform – the key to success on Upwork is having a strong profile. Most freelancers use UpWork exclusively to find clients.
It is free to set up a profile on Upwork and free to search for new jobs.
However, to apply/bid on new projects – they now charge a connect fee of $0.15 per bid.
Once you create a strong profile, you can search for jobs and bid on them. The clients have an opportunity to review each bid and respond to the ones.
Upwork is very particular about keeping all communications, hiring and billing through their platform. So they do have a very strong infrastructure.
Once hired by a client – Upwork manages the billing and invoicing, and they take 20% of the fees before you are paid.
1.2 Codeable
A niche marketplace – Codeable specializes in connecting WordPress developers with clients.
The benefits of Codeable is that they vet the clients, and you as a WordPress developer is guaranteed a minimum rate of $70 to $120.
However, since Codeable has tighter control of the process and client management – the vetting process for freelancers is rigorous.
There is a thorough application and interview process, and according to Codeable, only 2% of applicants make it through the final process and are hired to work with them.
Nonetheless, if you possess the experience and proven track record in WordPress – it is worthwhile to apply at Codeable.
1.3 99designs
A global platform that connects freelance designers with clients – 99Designs is an established name in the space.
With more than 500000 registered customers- it is an ideal marketplace if you are a graphic designer.
Clients can either hire a graphic designer directly or start a design contest.
Like any other platform – the key to success is to have a strong profile.
Creating a profile is free.
The more projects you complete on 99Designs and the more positive client reviews you receive – the higher your chances of being found by clients directly.
Once you start working with a client, 99Designs charges a $100 introduction fee.
Also, they charge a platform fee to the freelancers – anywhere from 5-10% of the total transaction.
1.4 Toptal
Another niche platform – Toptal focuses on connecting clients with software engineers, developers, and business consultants.
Toptal's unique value proposition for clients is that they only present the Top 3% of freelancers.
To do this, they have a very rigorous and thorough screening process that includes:
Language screening (freelancers must be fluent in English)
Skill testing
Live Screening by Toptal Experts
Project testing
It usually takes a month to complete all of the above steps.
But, the earning potential is significantly higher compared to other platforms like UpWork or Freelancer.com.
There are estimates that TopTal freelancers can earn anywhere between $800 to $3000 per week, depending on their skills, location, experience, etc.
1.5 Gigster
A relatively new kid on the block – Gigster does not operate entirely as a marketplace.
Clients or Startups approach Gigster for a specific project.
They can receive a quote within 10 minutes of chatting with Gigster's team.
Once the project is approved and purchased by the client – Gigster then taps into its talent network of engineers.
Depending on the scope of the project – engineers will work with other developers, project managers, etc. to complete the project.
So, Gigster is putting together a team of professionals to complete a particular client project. And each group is unique to a project.
As a freelance developer – you are not dealing directly with the client but with the internal team at Gigster.
Only 7.7% of freelancers who apply on Gigster are accepted.
However, the potential to earn an above-average income has been attracting many engineers and developers to this platform.
Though Gigster is in the early stages with only 700+ designers, the platform has a lot of potential for growth.
1.6 Folyo
Unlike a platform where you can search for clients and jobs – Folyo is a newsletter subscription service specifically for web design projects.
The Folyo community is for web designers, illustrators, logo designers, etc.
For a fixed price of $79 per month – Folyo will search for new clients, will vet them, their projects.
They will then send a curated list of jobs, RFPs, etc. to the members via email and slack.
You will be able to apply directly to the client, and you are responsible for everything (a proposal, billing, invoicing, etc.) after that.
Folyo is run by Rob Williams who manages all the client relationships, job sourcing and also manages the freelancer community.
1.7 Clarity
Clarity is an ideal place to showcase your experience and expertise in your field.
It is a marketplace for clients to search and find experts (with a proven track record in a particular area).
Clients are not here to hire you for a project – but to pick your brains.
In other words, think of this as your first foray into consulting.
Clients can search for a specific skill-set or experience, and then Clarity lists their recommended experts.
The platform also provides full transparency into the expert's experience, past client reviews, number of calls, etc.
The client can then place a call and book a time to speak with the expert.
The expert (or business owner) can set up their rates or pricing.
Unlike the other freelance marketplaces – it is relatively simpler & easier to set up an account as a Clarity expert.
You can set up an account using your LinkedIn account and complete your profile within minutes.
1.8 Behance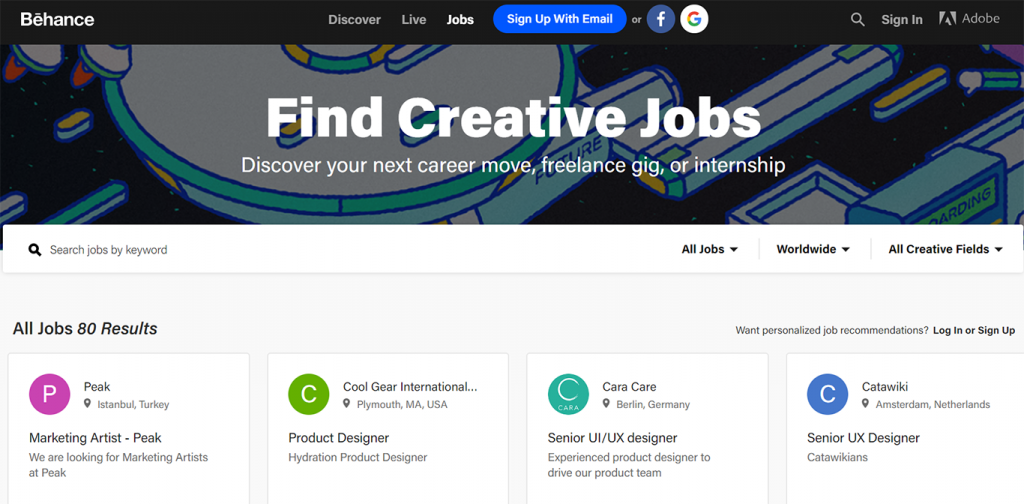 Behance (now owned by Adobe) is a platform where designers, illustrators, and photographers can create portfolios.
It's free to join, and there are no limits to how many images you can upload.
It also provides a platform for companies & clients to search for creative work.
If you have set your profile to a public setting – anyone can view your work.
The clients can also contact you directly via the Behance network.
The platform also hosts a job board.
You can search for and apply for jobs directly via Behance.
1.9 Freelancer
Similar to UpWork – Freelancer.com is a marketplace where clients can post jobs, and you can search for client projects.
Over the past few years – Freelance.com has acquired and consolidated many of the smaller and niche freelancing sites under one roof.
They cover a broad spectrum of skills from development, IT to writing, marketing, sales, etc.
Freelancers can search for listings/jobs, and apply for jobs by creating a Freelancer.com account.
The platform is known for its transparency because you can see who else is bidding, and what amount they are bidding.
1.10 PeoplePerHour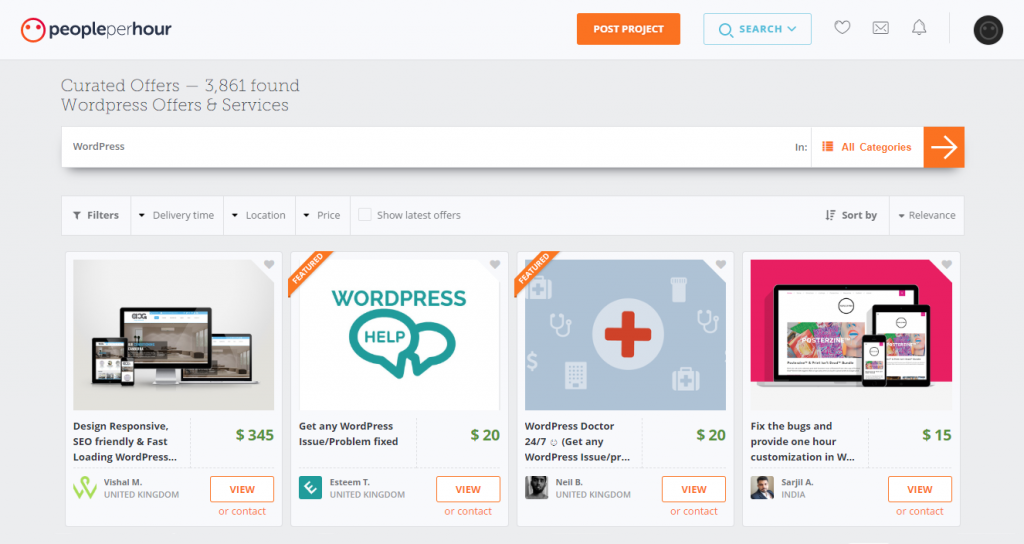 PeoplePerHour is the largest online platform in the UK catering to freelancers.
Similar to UpWork and Freelancer.com – you can create a profile.
Once their team vets your profile – you will start receiving a list of potential jobs.
The clients who use this platform will usually post a specific project, set a budget, and list the project.
Freelancers can bid for projects.
You can showcase selected offers at a set price (similar to Fiverr.com), and also list your portfolio (similar to UpWork).
Clients can search for a skill-set and purchase an offer directly from a freelancer. In short, it is a hybrid of both Fiverr and UpWork.
Existing Client Network
Most small business owners and freelancers only look at their existing clients as their current source of revenue.
But there is more you can gain from your current clients.
Your existing clients and their network can be a goldmine if tapped into properly.
Let's look at some ideas on generating more clients and revenue from your existing clients.
2. Upsell Existing Clients
According to QuickSprout, it is seven times more expensive to acquire a new customer than to retain an existing one.
If you retain, wow and over-deliver existing customers – then they are more likely to spend more money with you.
You might already be doing this, and your current client(s) may already be giving you more projects. And that's great!
But, are you capturing all the potential business and revenue?
2.1 Cross-selling
Consider cross-selling your existing clients. It's the idea of selling different/similar services to the same client.
The best example of cross-selling is, of course, the eCommerce behemoth Amazon. Back in 2006, they revealed that 35% of their total sales came from cross-selling current clients.
You don't need a massive eCommerce network to do this.
You can use the same idea to go back to your existing clients, and win more projects from them, and win more of their wallet-share.
For example:
If you are a graphic designer – then a client might have hired you for a logo design project in the past. Now reach out to them and talk to them about other potential projects – landing page design, email design, product design, etc.
If you are a content writer and you have written multiple blog posts for a client. Now, speak to them about larger projects such as ebook writing, whitepaper creation, etc.
2.2 Sell to More People in the Same Company
Here's another idea to get more revenue from an existing client.
Have you considered approaching other departments or stakeholders within that same company?
A quick LinkedIn search will reveal the names of other people in the same company with similar titles.
You can approach those individuals and share your successes with their company.
Let's assume you are a graphic designer, and MailChimp is one of your clients.
You are already dealing with one of their Creative Director.
Here's how you can find more contacts within MailChimp.
Head over to MailChimp's LinkedIn Company Page, and search for the title "Creative Director."
As you can see, LinkedIn lists all the people with the same or similar titles that will be good for you to target.
PRO TIP:
Whenever reaching out to other contacts within the same client company – always reference or mention your existing contact's name.
Better yet, have a quick chat with your existing contact and ask them if it's OK for you to reach out to others. Unless it's an extreme situation – most will say yes.
3. Automate Client Referrals
According to a study done by Alignable – 85% of small business owners agree that word-of-mouth is the most effective marketing channel.
However, most freelancers and agencies don't take advantage of this marketing strategy.
John Rampton and his team at Due – found that referrals were three times more likely to convert rather than someone else who wasn't.
Most of us hope that "If I do a stellar job, then the client will share my name and work with others."
However, this does not always happen.
Our clients are busy. The idea of referring you to someone in their network might not even cross their minds.
We also fall under the same trap.
Since we are so busy servicing that client – we also forget to ask for referrals. And some of us are afraid to ask because of the fear of rejection.
In this age of technology – why not automate it and make the "asking" less stressful and more fun for both of you.
If you use a low-cost CRM such as Zoho, HubSpot, or ZeroBS CRM – then you can set it up, and the system will take care of it for you.
You can also leverage your ESP such as MailChimp, ConvertKit, or Aweber, to automate the outreach.
3.1 Steps to Automate Client Referral Program
Step 1 – Establish the best time to ask
Define what an appropriate time for you to ask for a referral is.
It will vary based on your offerings.
For example:
If it's a consulting service – then the best time to ask for a referral would be once your project is delivered.
If you are a freelance content writer – then wait for the article to be published.
If you are a graphic designer- then you can ask them as soon as you have delivered the design.
If you are selling a product – then give it at least ten days after the product's delivery before reaching out to them
Your situation might vary, and you will have a better idea of what is ideal. Once you know this, you can set up an automated reminder in your CRM or ESP.
Step 2 – Create an Offer
Find out precisely what (bonus or reward or benefit) you will offer your current client and also for the new client.
If you are selling B2B services, and the client has had a long-lasting relationship with you – then you might need to offer a specific incentive.
If you are offering a product, then it helps to provide them with an incentive or discount.
The best example of an exceptional referral program would be Dropbox.
With the help of referrals, DropBox grew from 100000 users to 4 million users in 15 months. Dropbox offered a new user an extra 500 MB of space if they referred a friend to the platform, and this strategy was wildly successful.
Step 3 – Create Email Templates
To save you time, create templates in your CRM or ESP.
It will save you time and will help you with automation.
Here is an example template from HubSpot – that discussed how to build a customer referral program.
If you have come up with a promotional or a discounted offer – then here's an example of another template that you can try using.
Step 4 – Setup Automation
Using your CRM or ESP you can set up automation.
All EPS such as MailChimp, ConvertKit, AWeber have extensive examples and resources on how you can set up automation or sequence.
Additional Reading:
4. Cold Email Outreach
In the age of social media, videos, podcasts, slack & other communication tools – it might sound like an email's time is coming to an end.
However, the stats and numbers about email usage say otherwise:
These are just a few stats, and there are many more to support the notion that emails are not going away anytime soon.
My goal here is not to promote email marketing – but to reduce any doubts you have about the effectiveness of email.
Cold emails are still relevant.
You can secure meetings and win new clients using cold email outreach.
Successful marketers and large companies are still using emails to win clients and generate new revenue.
As a freelancer or solopreneur – you too can use emails to uncover new clients, and we will cover more of that in the sections below.
4.1 Reasons Why Cold Email Outreach Is Effective
Your competition isn't doing it: Cold Emailing is not widely used by freelancers, solopreneurs, and small business owners. So, that could leave an opportunity for you to experiment.
Mobile Usage is very high: Everyone has an email app on their phones. About 75% of smartphone users will use their devices to check emails, and the open rate on mobile devices is higher than on desktop.
Direct Path to your client: If you have the right email address – then you are the closest to your client than ever before. If they are interested, they will respond right away. You are just one reply away from your next client.
Relatively Cheaper to implement: All you need is a professional email address and a simple & free CRM to get started. If you are starting out – you can use a spreadsheet to track your email outreach. All you need to invest is your time and effort.
Examples of Freelancers who used Cold Emails successfully
Jorden Makelle, a content writer who runs CreativeVolt – used cold emails in her very first week as a freelancer.
She recounts that she won 2 clients on her very first day.
Jorden sent out 17 cold emails, and 2 of them became clients.
That gave her a head start to launch a successful freelance writing career in a few months.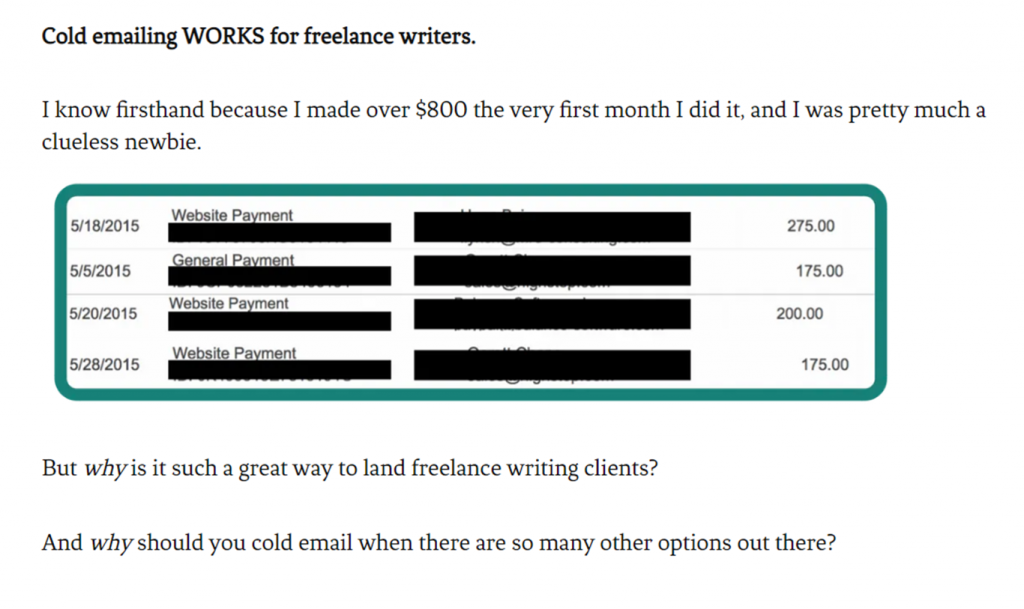 Freelance content marketing consultant Ryan Robinson also has had a lot of successes with emails.
Ryan shares how he generated $107,500 in new client billings with the help of cold emails.
Rob Allen, a freelance copywriter and (now the co-founder of Click Here Agency) also used cold emailing to win new clients.
He shares how we won $5000 in new client income in his very first month as a freelance copywriter.
PRO TIP:
Before you embark on your cold emailing journey – it is essential to know that certain countries or regions have some limitations (or even restrictions).
Europe implemented GDPR in 2018.
Canada introduced CASL in 2015 to protect consumers.
The State of California implemented a similar privacy law in 2020.
Understand this to make sure you are complying with the laws based on your client's jurisdiction.
4.2 How to Write Cold Emails That Convert
Step 1 – Create a Target List
Cold emailing works well if done on a large scale.
Since the response rate is relatively lower – I recommend doing it at a large scale to be more effective and successful.
Start by creating a list of 50 to 100 companies that you want to target.
Then, create a list of the right titles or contacts you want to target.
Ideally, you should aim to reach the decision-maker. You should ideally be sending an email to the person who has the authority to set the budget or the power to hire you.
For example:
If you are a freelance writer – then your target could be either the VP/Head/Director of Content; OR the VP or Director of Marketing (for smaller companies).
If you are a freelance graphic designer – then your target would be the Creative Director or the Art Director; OR Head of Brand Strategy (for smaller companies).
If you are a freelance developer – then your target would be the VP or Director of Engineering, OR the CTO (for smaller companies).
You can use LinkedIn to find the right contacts within a company.
I have covered that in one of the sections above on using Linkedin Company pages to find the right contacts.
I would recommend using a spreadsheet to track your email outreach.
Something as simple as a Google Sheet is sufficient.
Erin from FreelancingMama shares this template that she uses and recommends.
You can download it for free and create your copy.
Once you have the company names and list of contacts – you can use a tool such as Hunter.io to find a contact's email addresses.
There are also other tools you can use to search for email addresses
Step 2 – Create an Email Template
Your goal from your email is to get a reply back from the client.
Here are some things to keep in mind when crafting your cold email.
The components of an effective Cold Email:
A Compelling Subject Line
Personalized Salutation
Opening Lines – Talk about something in common or relevant
State Pain Points- Talk about the problems they face
State Solutions – Talk about how you can help them
Social Proof or case study (if possible)
Call to Action – Have a strong closing statement
Here's an email that freelance marketer Josh Hoffman used to land a new client.
I like this email because Josh provides specific examples of what he can do for that client.
Similarly, you can choose to provide a unique solution for the client. Give them a preview of what they can expect to get if they hire you.
Here is another email from Jake Jorgovan that helped him land a new client project worth $4250 for a web design project.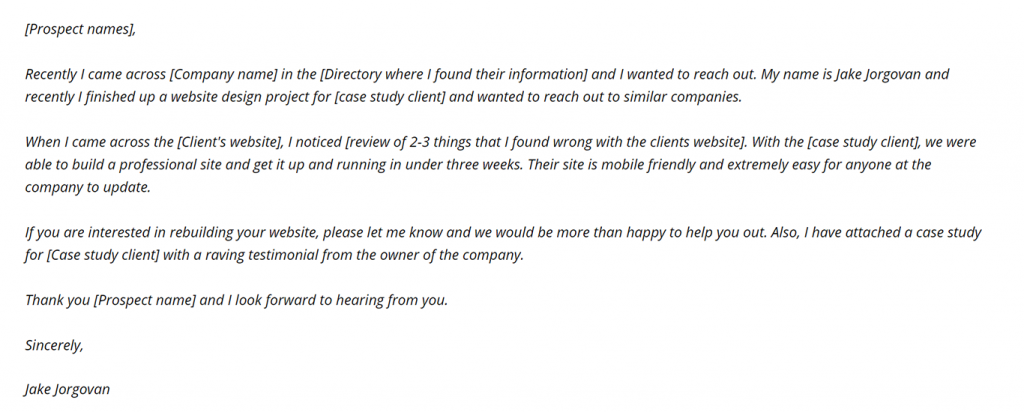 I recommend that you modify your email copy based on your skills, experience, and client situation.
Keep testing your emails.
There is no one magic bullet. What worked for one client may not work for another. The only way to find out is by testing and testing.
The more emails you send – the more fine-tuned your copywriting will become over time.
Step 3 – Create a proper follow-up system
Your response rate for cold emails will vary depending on your industry, your location, the time of the year, the client's company size, etc.
That's why it is crucial to follow up.
For cold email outreach, I recommend keeping it three or less — ideally two emails.
You don't want to annoy your potential clients.
For your follow up emails – I recommend that you keep it very simple and short.
Think of your follow-up emails as a nudge or reminder for them to remember you.
I like this template that Jake Jorgovan uses.
It's simple and to the point.
He recommends sending them after 7 to 10 days.
He usually gets more responses from his 2nd email than the first one.

As per Jake – if they don't respond from the 2nd email – they are most likely not interested.
So, don't waste your effort and time on following up with the same client over and over again.
If you have created a proper list – you should have no shortage of companies to email.
Additional Reading:
Online Networking
In this section of the guide, we will look at the most suitable social networks and other online avenues that you can tap into for seeking new clients.
5. Facebook Groups
More than 850 Million users are part of Facebook Groups.
Initially, Facebook Groups started as forums for people with similar interests – hobbies, places, fan clubs, etc.
However, now they have evolved beyond that.
Now brands, companies, and even small businesses are using Facebook groups to engage with their users, customers, partners, etc.
For example:
Exercise brand Peloton has over 168000+ members in their official facebook group. Customers, members, and prospects of the brand can join the group and share their feedback directly. It has helped them foster a community, and they can potentially use this to share stories, ideas, etc.
Content marketer and freelance writer Nathan Collier created his group The Content Marketing Lounge two years ago, and now the group has over 5000 members. One of the most significant benefits for Nathan has been his ability to win new clients, and also foster a community.
You don't have to start a Facebook group like Nathan or Peloton.
The examples are just an illustration that Facebook groups can be a source for generating new clients and foster customer loyalty.
To begin – you can join relevant Facebook groups and participate in conversations. You can also connect with other like-minded individuals within your niche.
5.1 How to Find Relevant Facebook Groups in Your Niche
Search on Facebook
Use Facebook's universal search bar and type in your industry keyword.
For this example, I typed in "Graphic Designers" – and the search result showed me a few relevant groups with that keyword.
Perform a Google Search
Head over to Google- and search using your title or industry keyword.
You can search for: "Facebook groups for X"; and it will pull up a curated list of Groups that have been vetted and tested by other bloggers and influencers.
Once you find the top 3 to 5 groups in your niche – join them.
Some of these groups are private or closed and might need you to qualify or fill out a questionnaire.
The admins want to make sure that they have quality interactions within their groups, and do not want people spamming or harassing members.
Once you join a group, abide by the rules set by the admins.
Participate in conversations, and be active by commenting and discussing with the posts.
It will take you a few weeks to build trust with the audience.
Sooner, they will start to recognize you and be open to more suggestions and ideas from you.
In some groups, the members are actively looking for people with your skill-set.
Here's an example from one group – one of the members wanted to hire a new writer. So she put out this post within those groups.
These conversations are not an everyday occurrence. But, they do happen.
Your goal should be to be active and respond quickly when this happens.
---
6. LinkedIn
LinkedIn is the largest Professional Social Media network with more than 645 million users
As a freelancer or a solopreneur – LinkedIn is an ideal place for you to :
Find decision-makers and potential clients.
Connect with them directly.
Showcase your portfolio and client recommendations.
Build your personal and professional brand.
For example, Freelancer Marketer Chloe Brooks is very active on LinkedIn. As you can see from the image below – she had a new client reach out to her directly on LinkedIn.
1) Optimize Your LinkedIn Profile
LinkedIn makes it simple and easy to create and complete your LinkedIn Profile.
Here are some additional resources to help you complete your optimized LinkedIn Profile:
2) Start Building Your Personal Brand on LinkedIn
LinkedIn provides you an opportunity to showcase your knowledge and expertise.
Before you do any personal outreach, I recommend you start building your social proof and add some content.
Search for relevant hashtags and then start participating in conversations – like, comment, and share the right posts.
3) Start Building Connections
LinkedIn has made it easy to search for any contacts or decision-makers (large and small companies in one place).
You can search for any individual, learn about their past experiences, and also what they care about.
Using this information, you are then able to target your outreach via LinkedIn.
A word of caution – do not start pitching your services in your first message.
Start connecting with people with a simple personalized invite. Here's an example template to connect with a potential client.
Here's an example of a LinkedIn outreach template suggested by Aja Frost on The Muse.
Once you connect with them – you can then start having discussions directly using LinkedIn's IM (Instant Messaging) tool.
The goal is to build familiarity first.
Then start building relationships with your prospects.
Once you have done that you can use your experience and brand to win their trust.
At that point, you can reach out to them to discuss business opportunities.
7. Subreddits
Dubbed as the 'front page of the internet' – Reddit is the 5th most visited website in the US.
With more than 1.2 million subreddits and 330 million users – the platform could be a goldmine if used properly.
Here's something to keep in mind about Reddit.
The community isn't very marketer-friendly.
If you are found heavily promoting yourself – the users will call you out, and you can get banned from a subreddit or by Reddit itself.
So unlike other mediums like Facebook, LinkedIn, etc. – You cannot share your content or services or promotions.
Begin first by engaging in conversations in the subreddits, and build trust with the users.
With the right strategy, you can get visitors to your website and also your offer pages.
Here's an example :
Jimmy Findlay, the founder of Findlay Hats, was able to generate 60000 website visits and $28000 in new sales (all in one day) – with the help of one post on Reddit.
As you can see, the post did well – generating over 33000 upvotes, and 2000 comments.
Niall Doherty, former freelancer developer, and current world traveler did something similar.
He posted on r/IamA about his traveling adventures.
The post generated over 3000 upvotes, and over 1000 comments.
It also sent 15000 visitors to his website in one day, of which 100 became subscribers. This thread allowed him to sell about $800 worth in new book sales.
By using similar techniques – you too can generate traffic and potential leads to your website.
1) How to find the right subreddit?
There is a subreddit for just about anything you can think of.
I recommend joining the subreddit that's suitable for you.
Your criteria for the right subreddit can be any of the following:
Your Title (e.g., freelance writer, graphic designer,etc.)
Your Industry (e.g., WordPress, Hadoop, SaaS,etc.)
Your Client's Title (e.g., content marketers,etc.)
Once you have created a list – then head over to Reddit and search for that keyword.
In this example, I have searched for the keyword "copywriting," and it pulls up a list of all subreddits that match that keyword.
It also shows similar subreddits where that topic can be found.
You can open a particular subreddit, and check for the quality of the conversation.
The higher the number of members – it usually means the engagement is also higher.
As you can see this particular subreddit – r/copywriting has some engagement, but it does not seem to have a lot of activity.
However, the stronger the niche – the better the conversation.
Once you narrowed down the right subreddits – join them and participate in conversations.
Upvote and comment on relevant posts.
2) How to create posts that drive engagement:
Not all posts will give the same type of engagement.
Each subreddit is unique, and you will have to do some research on their past posts to see which ones generated the most upvotes and comments.
For example, I searched for the "Top" posts in r/Marketing.
As you can see from the list on this page, the posts that do well are:
Listicles
Industry News
Case Studies
Educational
As you analyze each of your subreddits – you will start noticing trends about which type of post gets the most engagement.
Once you have identified that – you will understand the community's preferences.
You can use this information to craft the right post.
Be active and keep testing your posts.
Try different variations, and experiment with different variations – GIFs, Videos, AMAs, blog posts, etc.
Very soon you will find what works best for each subreddit.
Additional Reading:
8. Online Forums
If you have been on the internet for a while (I am talking late 1990s and early 2000s) you might be familiar with online forums.
There were forums for just about anything – marketing, fitness, etc.
Online Forums were the precursors for today's social media (Facebook, Twitter, LinkedIn).
Though they are not as widespread today as before – there are a few that exist for each industry and niche.
Joining these forums will help you connect with other like-minded individuals and also potential clients.
The conversations and discussions on online forums are much more specific to your industry.
You get access to what's new and trending, and also connect with clients who are invested in that subject.
Here are a few niche online forums:
1) Growth Hackers
Founded by Lean Startup Evangelist Sean Ellis – GrowthHackers is an ideal place for marketers of all disciplines – growth marketing, demand generation, etc.
The quality of conversations, posts, and even AMAs are of high caliber.
They also have a job board where you can search for remote and full-time projects and jobs.
2) SolidGigs
It started as an email subscription service – SolidGigs is where you will have curated freelance jobs forwarded to you every week.
You can reach out to apply to the clients directly.
Also, they have an active forum that garners a lot of conversations and support.
Also, they provide free resources in the form of courses, videos, blog posts, freelancer interviews, etc.
The membership fees is about $20 a month, and it includes everything.
3) Graphic Design Forum
As the name suggests – Graphic Design Forum is dedicated to Graphic Designers with varying levels of experience.
The discussions on this forum.
It's a place to learn, connect with others and also potential opportunities (posted directly by clients)
4) StackOverflow
An established and growing community for developers – StackOverflow has evolved from just a Q&A site.
Today, they have 174 communities for many topics beyond just computer programming.
You can join for free, participate in conversations, and build your expert status.
They also have a job board for developers where you can search and apply directly on the site.
9. Online Masterminds
Unlike Online forums that are free to join – Masterminds usually have a cost or fee to join.
They are much more exclusive and more intimate.
Some of the online masterminds are invite-only.
Most of them have a waiting list; and will not consider you have a phone call or conversation with the moderators.
Since the memberships are paid, and all the members are vetted – the quality of participants is also higher.
You will also notice that the discussions are much more focused and relevant to what you do.
To find relevant masterminds – head over to google and search:
"Online Mastermind" + "your industry" OR
"Online mastermind" + "your title."
Here's an example of what I could find when I searched for online "masterminds for copywriters".
The cost to join these masterminds would vary from one group to another.
In my research- I have noticed groups from $10 a month to over $1000 a month.
Here's a specific example – Freelance Writers Den is a paid online membership site or mastermind for writers. The cost to join this specific mastermind is $25 per month.
Created and moderated by Carol Tice – the group has over 1000 members and has had over 80000 discussions over the last 8+ years.
In addition to a discussion forum – there is also a dedicated job site where clients can list and find freelance writers.
You will see some live testimonials on the website.
For example, one member – Lisa Baker, a freelance writer, was able to secure a $700 writing project from this group.
So the $25 monthly membership quickly paid off for Lisa.
Offline Networking
So far, we have covered many online strategies (emails, social media, forums,etc.)
In this section of the guide, we will look at a few offline channels where you can meet potential clients.
10. Local Meetups
Meetup.com is an online service that allows its users to create groups (or meetups) on any topic and then hold in-person and local events.
The website has over 35 million users worldwide and is growing.
Initially, the members created meetups for hobbies and group social activities – however, there are also local meetups for business and professional networking.
The benefit of attending meetups is that you will find people who are all focused on the same subject (your niche).
They are there to learn, connect, and network with others.
The people attending are genuinely interested in that subject since these events are in-person
Why else would they leave the comfort of their homes and phones- and travel to participate in an event?
1) How to Search for relevant Meetups:
Head over to Google and type in [Your City] + [Your Keyword] + Meetups
I just did a Google search for Tech Meetups in New York City, and this is what the search results found.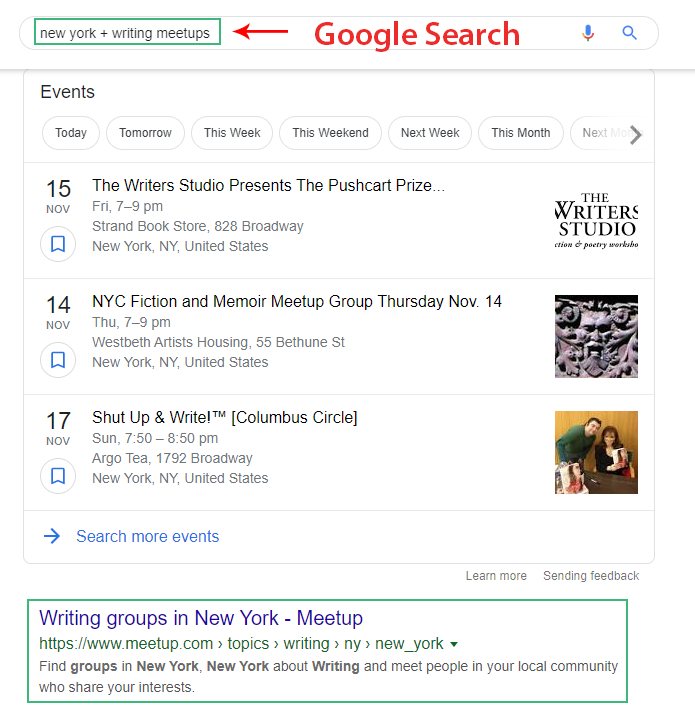 Google now also allows you to bookmark and search based on dates right within your search window.
You can also search by going to Meetup.com.
It defaults to your location, but you can search for any city or topic.
2) Network your way to find clients:
Most of the Meetups are small and intimate gatherings, typically attracting about 20 people.
So, it's easy to have meaningful conversations with the other attendees.
Be sure to bring your business cards.
Speak to the attendees, find out what they do, explain what you do and if there is a good fit – exchange business cards.
Follow up after the event and connect to see where the relationship might take you.
3) Advanced Technique – Sponsor a meetup:
Most meetups are always looking for valuable ideas to discuss.
They are usually self-funded by the organizers and the attendees.
You can contact a particular meetup host, and suggest that you host a talk or a discussion. In return, you can sponsor that specific event.
The sponsorship costs are not the same across all meetups.
It varies from one group to another.
Contact the organizer of that particular meetup, and ask what the costs would be.
For a nominal amount – usually around $100 or more (varies) – you will get an opportunity to host a discussion or talk to a dedicated audience.
4) Advanced Technique – Host Your Own Meetup:
Meetup.com allows anyone to create and host their events.
Creating a Meetup is relatively easy, and they will promote your group to get new members.
However, there is a monthly subscription cost for group organizers, and it varies by country — details on the pricing in the image below.
The advantage of hosting your own meetup is that you can attract a targeted audience, and you have control over the content and format.
I would recommend you attend a few meetups in your city and see how these meetings are organized and run.
Then you can take the step to launch your meetup.
11. Attend a PAID Event
Even in a hyper-connected mobile and social media world – events (live or offline) are still relevant, and they are growing.
There are more than 1.9 million events and meetings held each year (and that number was for the US only).
That number is growing every year.
Paid events in your industry are a great source of learning, connections, and an opportunity to find new clients.
The costs to attend live events can range anywhere from $20 to $10000+.
The people attending are very motivated to be there, and will typically spend a few days away from their offices.
So, you have the option to connect with key decision-makers in your field and start building those relationships.
1) How to Search for PAID Events to attend?
The easiest way to search is to use Google.
Head over to Google and try one of these searches:
[Your Keyword] + Conferences + Year
[Your Keyword] + Events + Year
You can also try searching for either your target client's title (or the decision maker's title).
You will be making sure you are attending events with a lot of targets.
Another alternative is Eventbrite, which is an event management and ticketing website.
You can search for events within your city or your keywords.
Here is a simple search I did for "WordPress developer" events in Toronto, Canada.
After doing a thorough search on Google and Eventbrite – you will be able to find events that are relevant to you, and also primed to help you find clients.
2) Network and Make Connections
Throughout the conferences/events- you will have an opportunity to speak and connect with other individuals.
Most events have educational sessions that you can attend and learn.
During and after these sessions – you can speak with and connect with others who are interested in the same subject.
There are also other various opportunities to connect.
For instance, every conference hosts social events throughout the conference.
It can be another opportunity for you to network with others. And make sure to bring your business cards.
3) How to Follow up after a conference
If you are lucky enough to start a conversation, and also win a new client right there at the conference – hats off to you.
However, this is rarely the case – relationships take time to create and nurture.
In most cases, you would need to follow up after the event is over.
Your contact might have met with so many individuals.
So, there is a chance they might not remember everything you discussed during your short meeting.
An excellent follow-up email would help you re-kindle that conversation and establish that relationship.
I always recommend referring back to something unique you discussed during your chat at the conference.
Here are some excellent email templates that Freelance journalist Elena Lyn Gross uses and recommends.
Always keep the follow-up emails relevant and straightforward.
Also, avoid sending a portfolio or pitching your services right away.
In the beginning, your goal is to start a discussion and build a relationship
Once you have started a conversation via email or phone call – you can begin discussing services.
Partnership Opportunities
In this section of the guide, let's explore some potential partnerships you can form that will ease up your need to proactively prospect.
Once you build and establish these partnerships – then in some cases, you can expect a steady stream of clients and revenue.
12. Approach Agencies
Most companies ranging from startups to large corporations outsource their work to an external agency, and this trend has been the same since the Mad Men days of the 1960s to today.
As more and more startups are popping up everywhere – this means an increased need for them to hire and work with agencies. In fact, there are 500000 digital marketing and PR agencies worldwide. The changing digital landscape also makes this a time of boom for agencies.
So what does that mean for you as an independent contractor or freelancer?
In many cases, the agencies may not be able to manage the workload. They often sub-contract or outsource some of the projects to external freelancers like you.
In a survey conducted by Databox of their agency customers – they found that most of them do outsource to other agencies with complementary skill-sets.
If you are able to connect with and build relationships with agencies in your area – then you can create a stream of steady projects coming your way.
1) How to Find Agencies
Clutch is a website used by businesses to find and outsource agencies for their projects.
So far, the website has a listing of over 40000+ agencies.
You can search and narrow down agencies based on specialization.
In this example, I search for "UX Agencies" in the "United States".
It showed me a list of 3902 Firms who specialized in just UX Design.
Once you open a specific listing – you will find more details:
Company Size
Average Project Size
Average Hourly Rate
Phone Number
Website,etc.
In addition to Clutch, there are a few other agency directories that you can use to search:
2) How to Outreach to Agencies:
Once you have identified a list of agencies you want to reach out – I would encourage the same principles as COLD EMAIL OUTREACH mentioned in this guide.
I recommend reaching out directly to the CEO and Founder of small agencies.
For mid-sized and large agencies – target and reach out to Director or VP Level Titles.
For example:
If you are a designer – then you can reach out to the Creative Director.
If you are a writer – then you can reach out to the Director or VP of Content.
Find their email addresses, and then send out an email.
13. Approach non-competing partners
As a freelancer or sole practitioner – you focus all your time and effort on a handful of services.
The benefit of doing this is that you can hone your craft, and at the same time charge more for your services.
The more niched you are – the more you can charge.
However, your clients' needs may exceed what you offer.
They are often looking for new freelancers.
Wouldn't you look like a rock star if you were proactive and offered them a recommendation?
Let's say you are a WordPress Developer, and your client requires a logo designer.
You can tap into a designer from your network, and the two can partner to help your client.
It's a win-win-win
You win by keeping your client happy.
Your partner (the logo designer) is happy because now they have a new client.
Most importantly, the client is super happy.
Here are a few more examples:
A real estate agent could partner with a mortgage broker, a home inspector, or a moving company to help their client with buying a new home.
A content writer can partner with a graphic designer, SEO specialist – to help their client with content marketing.
How to find non-competing partners:
a) Create a list of potential titles:
Create a list of all the services that your client can use. Use the above two examples as a guide for your own business.
Sometimes, it's as simple as asking your client. Have a conversation with them, and ask what other areas are they looking for help.
b) Online Search:
Once you have a list – you can use one or many of the tactics from above (Google Search, Facebook Groups LinkedIn,etc.) to find people from your city with those titles.
Search for Facebook Groups with a broader keyword than your title.
For example:
If you are a WordPress Developer – then you can search for groups that are all things WordPress
If you are a copywriter – then you can search for groups that cover all topics on digital marketing
You will notice that the membership size of these groups is typically more extensive than the niche Facebook Groups.
Do your research on the best group.
The main criteria to vet the right group is the number of posts a day.
The more posts mean the group is more active.
Once you are in the group, participate in the discussions.
The members will either share their updates on what they are working towards.
In some cases, they also post questions that they need a solution for one of their's r their client's problems.
It is an opportunity for you to join the conversation and reach out to the original poster with some ideas.
Here's an example of a conversation from our facebook group, where a member asked for some guidance to a problem.
As you can see – the post had received a few comments.
Once you have built some familiarity- you can then reach out via Private message to discuss further.
A word of caution – Don't be pushy and don't be promotional. When you have earned the right to contact them(and you will know when this is )- then reach out to them via a message.
Once you have established the relationship – you can then bring up the subject of a referral partnership.
You can apply the same steps on other social media sites – LinkedIn, Twitter to find other non-competing partners.
c) Offline Search:
We have covered a bit about offline events in one of the sections above.
If that resonated with you – then finding an event where you can find and swap referrals would be ideal.
BNI (Business Network International) is ideal just for that. They have about 8000+ chapters around the world. Members meet weekly to discuss business and support each other's businesses by sharing referrals.
You can search for a chapter in your city directly on BNI's website.
The website also shows more details about each chapter:
The membership size
Meeting location
Meeting times
Also, a list of all the members and their titles.
Once you vet the right chapter for you – you can attend a Chapter meeting, and see if it suits you.
There is a cost associated with joining any particular Chapter.
However, BNI has a structured and successful system to generate referrals, and most members stay as members because of a steady stream of referrals.
14. Join an App Marketplace
One of the challenges of running a service business is the constant need to find new clients (hence, I created this guide).
More importantly, you have to secure and complete the projects.
Projects can be time-consuming and in some cases, repetitive. In other words, the grunt work never goes away.
But, what if there is another way to complement your services, and thus supplement your income?
You can use your skill-set and create a product for a specific audience.
This product can then be uploaded or shared with an established network.
That network (or software company) can help you reach new clients, and thus generate new revenue.
As software companies like WordPress, Microsoft, Salesforce, HubSpot, etc. grow – many of them created app marketplaces to partner with other vendors and service providers like you.
Here are some examples of a few App Marketplaces that you can join if you have a product.
1) WordPress
The most commonly used CMS on the internet- WordPress is an open-source CMS and has a library of 56000+ plugins.
Individual developers create most/all of these plugins.
Many plugins are free, but some of them require to be purchased.
This allows developers to tap into the vast WordPress network of millions of users.
(We at Astra started as a WordPress Web Development Agency 10+ years ago.
We have since evolved into a software company with multiple products such as Astra, CartFlows, etc. Check out our story here.)
2) HubSpot
HubSpot is one of the most successful marketing automation and CRM creators with over 60000+ customers.
They also have an app marketplace where agencies and independent creators can upload templates, designs, etc.
HubSpot customers can search for and purchase these templates directly from the app marketplace.
3) Shopify
One of the largest eCommerce platforms – Shopify is nearing over 1 million merchants.
Like any software platform – there are gaps with the software,, and these merchants need templates or apps to help them launch and scale their eCommerce stores.
So, Shopify created an app store for independent developers to create and upload templates, apps, etc.
Ther are over 3000+ apps on the Shopify store, and that list is growing.
Almost all software companies have an app store or marketplace.
This is an excellent opportunity for developers, designers,etc.to productize, and sell their solutions.
Advanced Marketing Techniques
In this section of the guide, we will explore some of the more advanced techniques.
Some of these are labor-intensive and might also require an upfront investment of time, money, and resources – however, the potential benefits are higher.
15. Go on a Podcast Tour
There is no doubt that podcasts are growing and their reign will continue.
Today, there are over 750000 podcasts, and that number is only increasing.
Podcast listeners are usually loyal to a particular show, and they will tune in each time a new episode is released.
This growth in podcasting – provides an excellent opportunity for you to get in front of the audience of an established show.
Business coach Kai Davis has used podcast guesting to grow his consulting business to 6-figures in revenue.
His strategy was to appear on 2-4 guest appearances on podcasts in his industry.
You can do the same as well.
Here's the best part – all you need is a good microphone and a compelling message.
That's why this strategy is so powerful.
In my opinion, it's one of the low-cost client acquisition strategies out there.
1) Criteria a Target List of Podcasts:
Create a list of keywords or topics that your audience might be interested in.
That's usually, the podcast genres that your audience will usually be tuned in.
You can search podcasts:
Based on your skills:

If you are a freelance writer – then your clients are usually listening to podcasts about content marketing, social media, etc.
Based on your ideal clients' title:

If the client's title is "Head of Marketing "- then they are usually listening to podcasts about growth marketing, marketing, demand gen, etc.
Based on your target industry:

If all your clients are WordPress users – then they are listening to podcasts about all things, WordPress, web development, etc.
Using the above criteria, create a list of about 50-100 podcasts that you want to target.
2) How to Search for the right podcasts?
a) Use Apple Podcasts
Head over to Apple Podcasts.
You will see the categories and sub-categories listed.
Next – Choose the genre or category that you are targeting.
Here, in this example, I have clicked on Marketing; and it opens a listing of all the podcasts under that genre.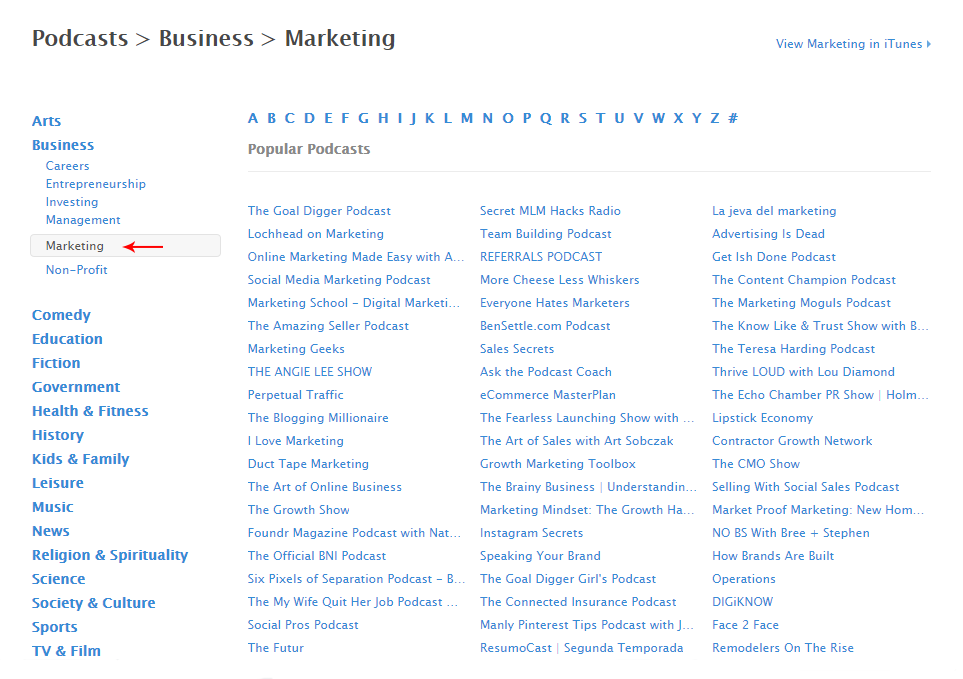 Next – I can click and open the podcast that I think is relevant.
In this case, I have clicked on The Brand Strategy Podcast.
It shows a preview of that particular podcast and all it's recent episodes.
Next – Open up any of the episodes.
Most podcasts usually have a link to the website of the podcast host or creator.
From their website, you can get a better understanding of who they are, what their show is about, and also how to contact them.
(Use the free email tools such as Hunter.io to find their email address).
Use Stitcher
Stitcher is an on-demand radio service where you can access podcasts. You can search and listen to any podcasts using your web browser or mobile device.
Head over to Stitcher.
Type in your keyword in the search bar, and they will show you a listing of all the shows with that keyword.
In this example, I typed in "WordPress" and it shows me a list of all shows for that topic.
Follow the same process as Apple Podcasts to find the creator's website and contact information.
3) How to Pitch to a Podcast Host
Cold emailing is still the best way to reach out to podcast hosts.
The most important thing to note here is the email pitch should not be about you, your services, or your skills.
It should be about the message you can share with the host's audience.
Think about the value you can add to their listeners.
Think about what idea(s) you can discuss to make the host look like a superstar.
Keeping this in mind – craft an email template that you use for your email outreach.
In my research, the best template I have come across is by online marketing strategist Janet Murray.
Janet has written an extensive article with more details on how to craft a compelling email pitch.
Additional Reading:
16. Host an 'Ask Me Anything'
'AMA' or Ask-Me-Anything is a real-time interview format (virtual) where users of a platform can participate in a Q&A type interview with a specific guest.
Most popular on Reddit – an AMA is usually on any subreddit.
There is also a dedicated subreddit for AMAS – r/AMA.
Some of the most popular AMAs have been Bill Gates, President Obama, Madonna, Keanu Reeves, etc.
In addition to celebrities – there have been AMAs for random, bizarre, fun and exciting topics.
If done correctly – you can also use the power of AMAs to generate some traction and even potential clients.
Searching for the Right AMA:
a) The Subreddits you belong to
In this guide, we have already covered how to search for and join the right subreddits.
Frankly, these subreddits are the best place for an AMA.
All the members of that subreddit are interested in that subject and are most likely to participate in an AMA.
Here's an example of a popular WordPress subreddit – r/WordPress.
It is a very active subreddit with over 76000 members, and you can see the engagement levels.
Search for "AMA" within the subreddit.
It will show you all the AMAs that particular subreddit has hosted.
It will show you the list, and you can also open and see the discussion on each one
Here's an example of an AMA from a Freelance WordPress developer who is sharing his story.
Before you host an AMA – spend some time on the subreddit.
Participate in group discussions – so you can understand the type of members and conversations.
Also, you can reach out to the moderators within that subreddit, and ask if you can host an AMA.
Get their input.
Perhaps, they can help and promote your upcoming AMA.
Make the AMA about the audience – show up, share value, answer questions, and provide the participants with a way to get in touch with you.
Here's an example of an AMA by Ryan Morrison (a Video Game Lawyer).
As you can see – this particular AMA received over 17800 upvotes and 1600 comments.
Ryan also shared his email, website, and social media.
This AMA drove traffic back to his website.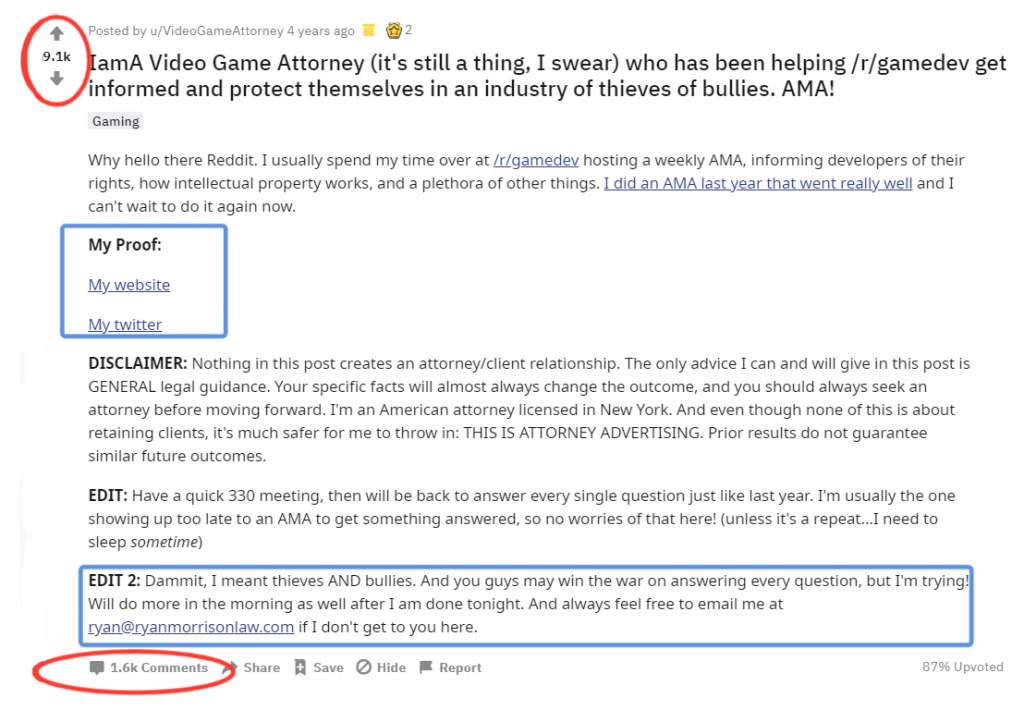 b) AMA on Other Forums (outside of Reddit)
AMAs are not exclusive to Reddit (though they made it popular).
Other online communities and forums actively have AMAs.
Here is an example of an AMA on GrowthHackers.
Here is an example of an AMA from a Freelance Developer on Dev.To
We discussed Online Forums and Communities in a few sections above.
You can apply the same principles as Reddit, and host your own AMA on these forums as well.
17. Start blogging
Creating and sharing content in your niche will help you establish yourself as a trusted source in your industry.
You can use this expertise to draw visitors to your blog, and then convert them into subscribers and potential clients.
The best way to do this is to create a blog.
We have already covered the importance of a portfolio website in a section above.
Adding a blog to your website is relatively easy.
It is effortless if you are using WordPress.
The rules of content marketing haven't changed much.
Create valuable content that your audience will enjoy and find value, then convert them into subscribers and then into customers.
79% of the most successful marketers prioritized blogging as their # 1 marketing strategy.
Ryan Robinson, a freelance content marketing consultant – has built a very successful blog with over 400000 monthly readers, and most of this traffic is organic.
Ryan has established himself as a knowledgeable marketer.
Because of this credibility – he can easily convert potential visitors into potential customers.
Through a dedicated offer page on his blog, he demonstrates the type of work that clients can hire him.
Other examples of freelancers with a blog:
Steps to Creating a Blog:
1) Create a Content Calendar
Do some research on the type of topics that your target audience will be interested in.
Think about the problems they are trying to solve, and the questions they want to be answered.
Create a list of 25- 50 different topics that you can write blog posts.
Use a tool like Google Sheet or Trello to plan the topics and the publishing schedule.
2) Start publishing excellent content
There is no shortage of blog posts being published every day.
Most of the articles get little or no engagement.
So, if you do the same things they other bloggers are doing – you will get the same results (little or no engagement).
Create long-form (over 2000 words), useful, and data-driven content.
The goal of your content is to help build trust with your audience and entice them into converting into subscribers.
The more content they read from your blog – the more likely they are to engage in any promotion or marketing from you.
There is an abundance of advice on how to create a successful blog.
I have compiled a list of useful resources you can read to start your blogging journey.
Additional Resources:
18. Write Guest Posts
In the last section, we covered the importance of starting a blog and writing articles on your website.
Guest Posting takes the opposite approach.
Instead of posting on your blog – you are publishing content on other people's websites.
The benefits of guest posting are many-folds:
Generate traffic to your website by tapping into a new audience.
Generate links back to your site (to boost SEO value).
Establish authority in your niche as a trusted expert.
And most importantly, generate new clients.
Maddy Osman – a freelance SEO Content Strategist, uses guest posting extensively to build a brand and draw traffic.
Here's an example of one guest post-Maddy has published on Search Engine Journal (an online publication that draws over 1 million pageviews a month).
As you can see, Maddy Osman is a regular contributor to Search Engine Journal and has published multiple pieces of content.
Under each post, she can showcase her bio, her focus, her social media profile, and her portfolio website.
Potential clients can visit her social media and her website directly from this author's bio.
How to be successful at Guest Posting:
a) Create a Target List of Publications and blogs
One frequent theme I have mentioned in this guide – is that you should spend time where your potential clients are.
The same applies to guest posting as well.
You want to make sure that your guest posts are appearing on sites which are read and visited by your prospects/clients.
You can begin your search by using the lists that have been compiled by others (they have already done the hard work – so you don't have to):
The opportunities for guest posting are endless.
You can narrow down the list to your industry, title, or keyword.
I would encourage you to visit each blog and do your research.
Once you have vetted the list, you can do an individual outreach to the editors of the blog.
b) How to Outreach for Guest Posts
The editors or webmasters of these blogs always receive pitches.
So, your key to success is crafting an effective email pitch that will get a response.
Here are some points to keep in mind before writing a pitch email:
Focus on their audience – It is not a time to promote yourself. The pitch should focus on the value that the publication's readers will get from your content.
Read their editorial guidelines. Almost, all blogs or sites that accept guest posts will have details on what type of content they approve.
Do some research. Search their website for the type of posts that have already been published. (to avoid duplication).
Once you have thoroughly read their guidelines and have understood their audience – it's time to send them a pitch.
Here are a few example guest post templates:
This template is from Brian Dean's guest blogging guide.
The next template is a roundup post on guest posting published by PointVisible.
I would encourage you to test out variations of your pitch.
Personalize and follow up on your pitches.
It is essential to be gently persistent to increase your chances of success.
These editors receive a lot of pitches. Ensuring that you follow up will get their attention, and get them to reply.
c) Create a Compelling bio
Once you have secured a guest post opportunity – the next step is to write a compelling blog post.
As mentioned before, pay attention to their content and editorial guidelines.
The more your content abides by the instructions – the higher your chances of getting published.
Create a short bio with links to your social media and offer page to draw visitors back to your site.
Here's Ryan Robinson's author bio on creativelive.com.
He has linked to a few relevant pages on his website.
It gives him an opportunity to showcase his work and draw clients back to his website.
Please note – not all blogs or websites will allow long bios, or allow multiple links.
Check with each blog editor on what type of links, and the quantity that is acceptable on their blog.
19. Create a Course on Udemy
Over the years, e-learning – specifically online courses are on the rise.
The online learning industry's revenue is expected to reach over $240 billion by 2021.
As a small business owner or freelancer – you have built up a lot of knowledge and expertise over the years.
Why not package it into an online course and present it to the world?
The benefits of creating an online course:
First and most obvious – additional revenue source. Once created, the course can continue to generate money for you.
Build authority and credibility.
Reach more people than working 1:1.
Use as a lead magnet to draw clients.
There are many course platforms to choose from, but Udemy is the world's largest online learning platform.
Udemy has over 30 million students, and, these students have enrolled in over 245 million courses.
So, it makes sense for you to choose Udemy as a platform of choice.
They have already done all the prep work for you, and they will also help you with marketing the course to their students (more on this later).
Here's an example of an instructor who has been successful on Udemy.
Brad Schiff is a web developer and designer.
He is very active on Udemy, and his courses on web development have generated a lot of students and positive reviews.
Brad Schiff has five courses on Udemy, and so far these courses been purchased by over 70000+ students (and growing).
You can also leverage the power of Udemy to host your course and generate new clients and opportunities.

How to Create a Course on Udemy:
1) Identify viable Topics:
Create a list of your core skills and expertise.
Think about all the things you can share that will resonate with your audience.
What are the topics that you are passionate about?
If you already have a blog – look at the topics that you have written extensively on.
Next, think about what are your customer's pain points.
Narrow down a list of challenges they face in doing their jobs.
What do they struggle with? What do they need your help with?
Using this, you should be able to come up with a handful of topics that you can speak about extensively.
Aim to come up with a list of at least ten topics.
2) Validate Your Topic:
Before you spend any time creating any course, you want to make sure that there is some demand.
Creating a course in a time-consuming process.
So, you want to make sure that your efforts are not going to waste.
Thankfully, Udemy has built a research tool – MarketPlace Insights – so you don't have to spend hours researching your topic.
As you can see from the image below, they provide extensive data for you to make sure you are creating the right course.
I used an example of "graphic design" and it instantly pulled up insights from within the platform:
Student Demand on that topic.
Search volume trends.
The Top searched keywords.
Other topics of interest for that topic.
Enrollment rates and conversion rates.
The total number of existing courses in that niche.
List of Top-Earning courses.
I would also encourage you to research the other topics within that niche.
You will be able to see the difference between the best performing and below-average courses.
3) Create Your Course
There is a reason we have recommended Udemy in this guide.
They make it easier for you to create, upload and market your courses right within the platform.
They periodically compile resources from their Top Instructors to help you succeed.
Here's what you can expect:
The resources to create courses, and succeed on Udemy are endless.
20. Host a Webinar
Webinars are one of the most effective marketing tools to generate leads. Since they are visual, engaging, and usually live – they tend to attract qualified and relevant participants.
The Benefits of hosting webinars:
1) Engaged Audience:
You have their undivided attention for the duration of the webinar (30 to 60 minutes).
Most webinars require pre-registration.
If someone attends a webinar, they are usually interested in learning about the subject.
2) Low Cost:
Organizing and hosting a live event can be expensive, depending on your location or curriculum.
Webinars, on the other hand, are relatively cheap.
You can create and host a webinar for as little as $100 or less.
3) Location Independent:
You can host a webinar from the comfort of your home or office.
The attendees can attend the webinar just by logging into their computers or mobile devices.
4) Establish Your Authority:
Webinars are an excellent way to build your brand and showcase your expertise. Most attendees are there to learn.
It is an excellent opportunity to showcase your strengths, discuss case studies, etc.
In doing so, you are gaining their trust – which helps you convert them to a client later.
5) Re-purpose the content to other mediums:
Once you have created a webinar – you can then repurpose that content into other formats – social media posts, blog posts, courses, etc.
It saves you time from creating other forms of content.
Shauna Lynn Simon is an award-winning home staging expert, and she uses webinars to promote her business and win new clients.
In this blog post, Shauna explains how one webinar has helped her generated over $1700+ in course revenue and one new coaching client.

John Michaloudis from myexcelonline, uses Webinars as his primary customer acquisition channel.
When he created his first product which was an online course – John used webinars to go from $0 to $20000 in monthly revenue.
How to Host a Successful Webinar:
1) Research the right topic:
The topic of your webinar should be around your customers.
Choose a topic that is important to them and something that they are currently struggling with.
Do some research using Google Search, Google Trends, social media, etc. – to find topics that they are searching for.
If you already have an email list – then reach out to them as ask for feedback.
2) Get the right tools:
Since a Webinar is usually a live event – you want to make sure that you have the right tools to ensure that your event is a success.
Here are the basics of what you would need:
A Webinar Program – GotoWebinar, Zoom, Google Hangouts, WebinarJam, etc.
Email Marketing Program – MailChimp, ConvertKit, AWeber, etc.
Landing Page/ Registration Page – ConvertKit, HubSpot, LeadPages,etc.
A high-Quality Microphone – many options in the market.
High-Quality Webcam – many options in the market.
Presentation Deck – The Information that you will be sharing during the webinar.
3) Promote Your Webinar
I recommend starting with your email list.
If already have a list of dedicated subscribers who read your content – then they are the ideal prospects for your webinar.
Make sure to personalize your invite and promote it to them.
Use your website and blog also to promote your webinar.
Create a dedicated blog post or page describing the webinar.
You can also have a pop-up form or lead magnet to entice website visitors to sign up for the webinar.
Use organic and paid social media (facebook, twitter, LinkedIn,etc.) to promote the webinar.
Also, promote it in the online forums and masterminds you belong to.
4) Make the Webinar Interactive
Ensure that the content during the webinar is engaging, educational, and a value-add for your attendees.
Don't use this opportunity to promote your services right away.
Leave that to the last part of the webinar.
As Shauna Lynn Simon did – provide bonuses for webinar attendees to increase engagement and participation.
Follow up with your webinar attendees by email (or phone call) with a survey, and more educational value.
In this way, you're building a relationship with them – which will help you convert them into clients down the line.
Additional Reading:
Conclusion
In this guide, we have covered:
The Universal Building Blocks (Foundation).
20+ Proven strategies to win new clients.

Tapping into your existing client networks
Online networking
Offline networking
Partnership opportunities
Some advanced marketing techniques.
I encourage you to start using one of these techniques right away.
As illustrated in all the ideas (with examples and case studies) – you can achieve similar results.
Take control of your income by being proactive with new client acquisition.
Put yourself in the driver's seat and watch your business grow.
Which of the 20 ideas resonated the most with you, and how are you planning to implement them?
Share your responses in the comments below.